73 airport workers with alleged terror ties not safety threat – TSA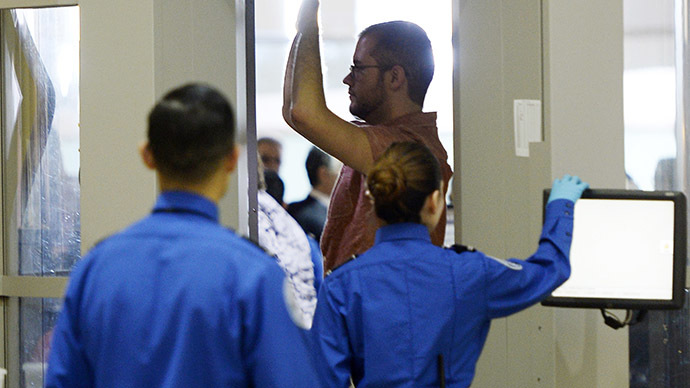 One of the Transportation Security Administration's top officials acknowledged that it had failed to identify 73 airport workers with alleged ties to terrorism, but added that an internal review found they did not pose a safety threat.
Stacey Fitzmaurice, the TSA's deputy assistant administrator, faced skeptical lawmakers at a hearing of the House Homeland Security Subcommittee on Transportation Security on Tuesday, saying that the agency's lack of access to all of the government's watch lists was partly to blame.
Earlier this month, an inspector general report found that 73 people with links to terrorism had been able to get jobs with airlines and airport vendors, and had also been granted the ability to access secure areas at airports. The report found the missing links after checking the records of more than 900,000 aviation workers against the TIDE database. The flagged individuals were found to have terrorism-related codes associated with their names that the TSA had not picked up on.
At the hearing, Fitzmaurice was asked if this lapse could have been caused by a lack of access to government watch lists such as Terrorist Identities Datamart Environment (TIDE) database. She replied that it was possible.
READ MORE: TSA whistleblower says agency operates on culture of 'fear and distrust' & lax security
"That is correct. We did not have access to that information. We are seeking that access," she said.
"We did review, though, all of the cases of those 73 individuals and have determined that they do not pose a threat to transportation security," she said, though no details regarding this conclusion were revealed.
Still, as lawmakers looked to close the gaps in the TSA's databases, Fitzmaurice said the agency "recognizes the value of having as much relevant data as possible."
One reason those with terror ties may have slipped through is that, unlike the databases the TSA currently has access to, TIDE lists individuals who have direct connections to groups or individuals that have been flagged by the federal government. They may not be suspected of terrorism themselves, but they could still be on the list due to their connections.
The criteria for being placed on the TIDE list is not public knowledge, however, and any alleged ties to terror that these 73 individuals have were not specified.
Department of Homeland Security Inspector General John Roth said that TSA wants access to TIDE but its request has not been formally made yet.
Fitzmaurice, meanwhile, told lawmakers that Roth found their screening process to be "generally effective," but committee members were not convinced.
"It's clear today that we can't use that word effective, in my opinion," said Rep. Kathleen Rice (D-New York), the committee's most senior Democrat, to the Associated Press.
"It strikes me as sloppy, and there's no place for sloppiness when we're dealing with the security of our nation's aviation system," she added, according to the Washington Times. "We strive for a security system that's airtight and precise — and in order to achieve that, our information must be airtight, everything we do must be precise."
READ MORE: Inspectors audit shows TSA failed to vet 73 workers 'linked to terrorism' – report
Committee chairman John Katko (R-New York) echoed the sentiment, saying lawmakers would pursue legislation to fix the issue.
"I highly encourage TSA to work with us, and not just close ranks," Katko told TSA officials, according to Syracuse.com."I can tell you one thing going forward, we are going to legislate and fix these things. We are not going to wait."
One solution could be a bill proposed by House Committee on Homeland Security Chairman Michael McCaul (R-Texas), which seeks to improve information sharing between the TSA and other governmental bodies.
"The reality is that in this post 9/11 world, the terrorist threat is metastasizing and we, as a nation, must remain responsive to any holes in the security of our transportation systems and ensure that the protocols keep pace with the ever-evolving threat landscape," McCaul said Tuesday, as quoted by the Washington Times. "Improving the vetting of the aviation workers who have access to these sensitive areas of airports can help close another backdoor vulnerability at our nation's airports."