Inspectors audit shows TSA failed to vet 73 workers 'linked to terrorism' – report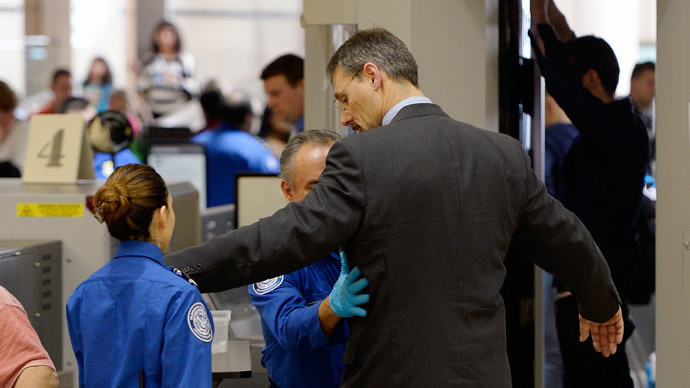 The Transportation Security Administration failed to identify 73 airport workers whose names appeared on a government terrorism watch list. Of concern is that the workers had access to secured areas of commercial airports.
In the findings in the Department of Homeland Security audit, the TSA designed a multi-layered set of controls for vetting workers such as matching workers to credentials, and re-vetting nearly 1 million workers against new watch-lists when issued.
To test the veracity of the TSA's vetting process, the National Counterrorism Center was asked to match more than 900,000 records of active aviation workers against its Terrorist Identities Datamart Environment (TIDE) database. Auditors found that agency personnel did not identify 73 people with terrorism-related codes.
Because parts of the IG audit report were redacted, it's not clear which categories the workers were listed under but the TSA acknowledged that "these individuals were cleared for access to secure airport areas despite representing a potential transportation security threat."
"The TSA did not identify these individuals through its vetting operations because it is not authorized to receive all terrorism-related categories under current interagency watch-listing policy," the Inspector General report stated.
The TSA is not allowed access to TIDE-only codes because they are not included on the Terrorist Screening List. The TSA said not receiving the additional codes for screening "represented a weakness in the program," and could pose potential threats to aviation security if the TSA is not given a chance to examine the information and "assess any potential associated risk."
One of the report's six recommendations is to follow up on TSA's request "to determine if its credential vetting program warrants the receipt of additional categories of terrorism related records."
Inspectors said that the vetting and re-vetting was "generally effective" with identifying workers with links to terrorism, and since 2003 the agency had denied or revoke 58 airport workers as a result of its vetting process.
The audit comes right in time for TSA workers flunking security tests at airport checkpoints last week, and exposing massive security breaches.
READ MORE: TSA fail! Agents' success nabbing weapons, explosives smugglers only 5%, report says
The TSA was established in 2001 to ensure the safety and smooth passage of people at US transportation systems. One of the agency's responsibilities is to vet workers who are employed by major airlines, airport vendors and other employers.
The redacted audit found, though, that the TSA had a poor record of checking an applicant's criminal history and authorization to work in the United States, relying instead on 467 commercial airports and air carriers to vet them.
"According to vetting officials, TSA can only vet workers based on data received from airports," said the report.
The report also found that TSA had to send nearly 29,000 inquiries to credential applicants since the program began in 2003. Of those applicants they had to deny credentials to 4,800 potential workers because it could not verify their lawful status, even though airport personnel said the people had passed the airports' own work authorization verification.
The audit also found that 75,000 aviation workers didn't provide their passport numbers, 14,000 did list their alien registration number and nearly 87,000 active aviation workers did not have a Social Security number listed. The agency is not authorized to collect SSNs but only to encourage workers to submit the data.
The release of the audit comes less than a week after security tests at airport checkpoints exposed massive security breaches. Undercover federal agents were 95 percent successful at sneaking fake bombs and other banned weapons past airport security checkpoints during multiple tests.
According to a recent DHS General's report, Transportation Security Administration agents failed 67 out of 70 tests conducted to gauge whether or not airport screeners are up to snuff.
READ MORE: TSA director fired after damaging report on security lapses
Just 24 hours after the redacted report was made public, Acting Administrator Melvin Carraway was re-assigned.
Sen Ben Sasse (R-Nebraska) said in an op-ed article published on Monday the full report should be made available to the public.
"The publicly available facts are disturbing, but the classified details are even worse," he wrote in USA Today. "Millions of families will soon fly to summer vacations, but if moms knew what members of Congress have learned behind closed doors, they would march on Washington demanding an urgent, top-to-bottom reevaluation of airport security."
"We are not safe. It is time to start effectively protecting U.S. flights from those hell-bent on killing us," he wrote.
The Senate Committee on Homeland Security is to hold a hearing on TSA security issues on Tuesday, reported Fox News.
You can share this story on social media: