​Drones against sharks: Tracking UAV used on California beach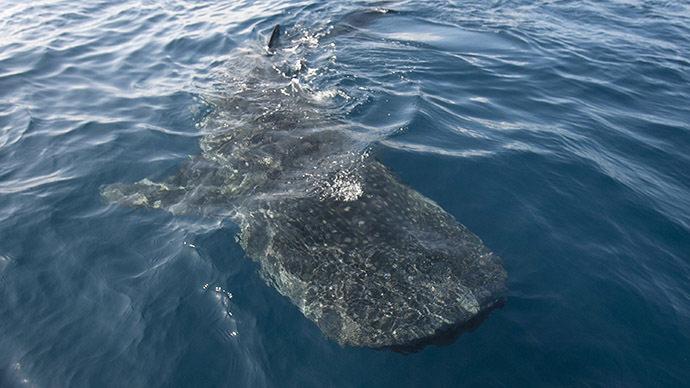 Lifeguards on Surfside Beach in California are sending out new miniature drones to detect sharks. If the sharks show aggressive behavior, they will close the beaches.
The drone allows lifeguards to get a bird's eye view in real time without so much as putting a toe in the water.
On Monday the drone recorded a juvenile great white in waist-high water, although thankfully there were no swimmers at the time.
"This morning, we launched it and 10 minutes later, we knew there were 10 to 12 sharks all in the Surfside [Beach] area. It works great," he said. "It flies up about 100 feet, looks down a wide area, and when we see the shadows, we'll go down and focus in on them," Chief Joe Bailey, a Seal Beach lifeguard, said to CBS Los Angeles.
New drone helps Southland lifeguards see sharks near shoreline: http://t.co/yajsp8KnJ6pic.twitter.com/tc7HJmvt7a

— CBS Los Angeles (@CBSLA) June 16, 2015
But Bailey said that those sharks are babies and non-aggressive.
"If we get bigger sharks or we get sharks that are aggressive, we're actually going to close the water. But right now, we have sharks that are 5- to 6-feet long, non-aggressive, acting like normal sharks, feeding on bottom fish, doing exactly what we would expect them to do," he said. "That's why we have it posted just to let people know that they are there."
But for many locals a 5 to 6 foot long shark is still a shark, and many people are avoiding the water.
"I was planning on going surfing tomorrow and definitely not now," one woman told CBS Los Angeles
While another said: "Sharks are kind of like my biggest fear so that's like very daunting for me."
Until the sharks get bigger or start becoming aggressive, Surfside Beach will stay open, although warnings of shark sightings will be posted.
READ MORE: 2 teenagers lose limbs in North Carolina shark attacks
The latest innovation in shark hunting comes as two teenagers lost their limbs in a shark attack in North Carolina on Sunday. Both were in shallow water at the time and their lives were only saved by the quick actions of bystanders and emergency services. The attacks happened 90 minutes apart. The Mayor of Oak Island, where the attack happened, told The Associated Press on Monday that she didn't think that gave workers enough time to decide to close the beach between attacks.
Bailey is not the first person to track sharks from the air. Stephen Kajiura, a professor from Florida Atlantic University has been using an old fashioned but no less effective single engine Cessna aircraft to monitor shark activity in the ocean for the last five years.
"Sharks are very attuned to temperature and they are only here [off Florida's Atlantic coast] in the narrow temperature band of around 21-24 degrees Celsius," Kajiura told Miami-based WFOR-TV.