2 teenagers lose limbs in North Carolina shark attacks
Published time: 15 Jun, 2015 16:24
Edited time: 16 Jun, 2015 08:48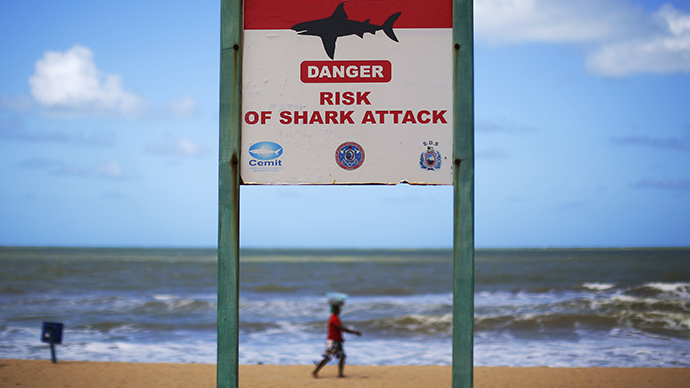 A 12-year old girl and a 16-year old boy lost limbs in two separate shark attacks while swimming in waist deep water off the town of Oak Island. They are now in a stable condition in hospital, according to officials.
The girl lost part of her arm and the boy also lost his arm when they were just 20 yards offshore, within less than 90 minutes and two miles of each other.
"They were saved by the quick actions of bystanders on the beach who stemmed their bleeding and the rapid response of emergency personnel," said Brian Watts, director of Brunswick County Emergency Services.
"Without that we would have had a different outcome," he added.
Witnesses said the scene after the attack was chaotic and frightening.
The girl was carried out of the water bleeding heavily, and bystanders managed to apply a tourniquet to stem the bleeding, while asking her questions to make sure she stayed conscious.
"I saw someone carry this girl (out of the water), and people were swarming around trying to help. It was terrible," said Steve Bouser, who was just starting a weeklong holiday in Oak.
READ MORE: We're going to need a bigger beach: Sharks come ashore during massive feeding frenzy (VIDEO)
Both were airlifted to New Hanover Regional Medical Center in Wilmington and are in a good condition, according to hospital spokeswoman Martha Harlan.
The girl's left arm was amputated below the elbow, and she also sustained damage to her lower leg. The boy's left arm was amputated below the shoulder, Harlan said.
The mayor of Oak Island said that the short time between the first and second attack didn't give officials enough time to close the beaches, but officials drove along the beach in a four wheel drive with a megaphone trying to get everyone out of the water. After the second attack the beaches were closed.
READ MORE: Great white shark attacks California swimmer (VIDEO)
On Monday they reopened the beaches.
"There's no way we're going to stop people from going into the water. There's really no way to control that," said Watts.
Investigators said that they didn't know if the same shark was responsible for both attacks, but said that they were working with law enforcement agencies and the Shark Research Institute to locate the animal, although they would not say what they would do when they found it.
The beach at Oak Island is not known for shark attacks.
"I've been here 16 years. This is the first time something this major has happened," said Chris Anselmo, Oak Island's fire chief.