Great white shark attacks California swimmer (VIDEO)
Published time: 7 Jul, 2014 15:09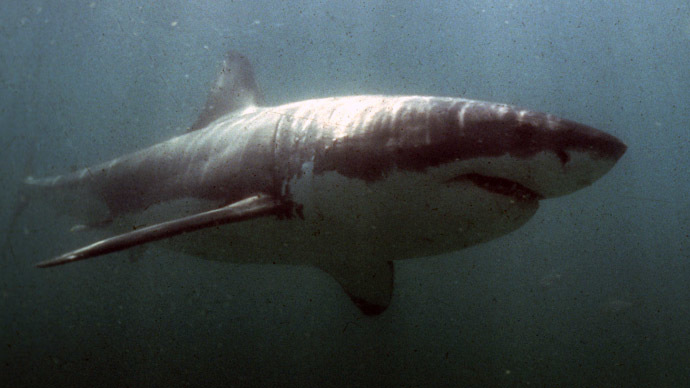 ​Video footage has surfaced of a shark attack that took place near Los Angeles, California over the weekend when a 50-year-old swimmer suddenly ended up face-to-face with a great white.
The victim, Palos Verdes, CA-based realtor Steven Robles, is now recovering from the bites he suffered to his hand and torso during Saturday's incident near the Manhattan Beach Pier.
Eyewitnesses say the incident unfolded when fishermen stationed atop the pier were reportedly attempting to reel in the 7-feet-long shark for around half-an-hour Saturday morning, causing it to become agitated.
According to the Associated Press, Robles was around 300 yards away from the beach with a group of other long-distance swimmers when he accidentally ended up too close to the irate shark.
Video footage purportedly taken from the pier now shows eyewitnesses mocking the man as he attempted to fend off the shark before being eventually assisted out of the water with the help of others.
"Did you hear him screaming?" one of the witnesses remarks in the video.
"Yeah!" responds another as onlookers are heard laughing.
"No he didn't get bit," someone else says. "He shit his pants right now."
Robles was indeed bit, and frantically attempted to fight off the shark before being rescued.
"At that point, when I felt that crunch going right into my chest — that was it. I thought, 'Oh, my God,'" he told local news network KTLA. "I grabbed his nose … and started pushing him, trying to pry him off of my chest. He released himself and swam away immediately. I never saw him again."
"I mean, I thought that was it. For just a second I thought this was it, I was really scared," he told a local NBC News affiliate.
Erin Martin, a witness to the incident who also works as director of the Roadhouse Aquarium, told KTLA these sorts of attacks are typically blamed on provocations and shouldn't be considered a random assault.
"It's called a provoked attack, which means the shark was angry and it wanted to get away," Martin said, "The shark did not come up and purposefully attack somebody."
Glenda Robles, the swimmer's wife, told KTLA that she is "thankful my husband is alive, and that he has a second chance."
According to NBC, the victim said he plans to swim again at Manhattan Beach despite the incident.
KTLA reported that 12 people have died from shark attacks in the United States since 2001k, citing data from the Florida Museum of Natural History.