California cop handcuffs and detains firefighter helping crash victims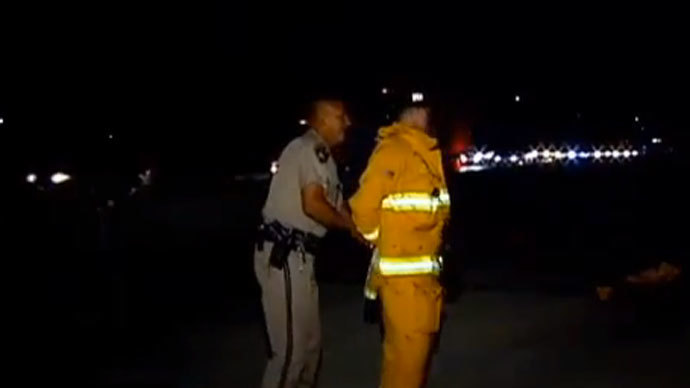 A California firefighter was recently placed in handcuffs and detained by highway police while helping crash victims, all for refusing to move a fire truck after being told it was parked inappropriately in the midst of an emergency.
The incident occurred Tuesday evening when local firefighters and members of the California Highway Patrol responded to a rollover accident in Chula Vista, CA. The city's firefighters were first to arrive on the scene, where they parked their fire trucks in a way to block oncoming traffic and protect those at the crash site.
When CHP officers reached the scene, however, they began ordering the firefighters to move their trucks out of the traffic lanes or face arrest. According to the local CBS affiliate KFMB, one officer had already directed a fire engine to leave the scene with its paramedic onboard before they could finish administering medical aid.
Another officer, meanwhile, told firefighter Jacob Gregoire, 36, to move his vehicle. Gregoire, a 12-year veteran, refused and continued assisting crash victims when the officer then placed him in handcuffs and lead him to a police vehicle. He was detained for about 30 minutes before being released.
One driver was reportedly transported to the hospital after the accident, but there's been no word on the second driver or on the conditions of either one.
Videos and photographs of the incident were captured by KFMB and posted on the internet, sparking outrage among many commentators who couldn't believe what was happening.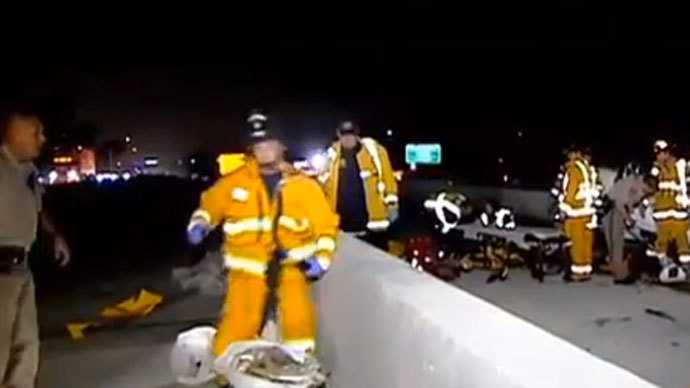 Chula Vista Fire Chief Dave Hanneman called CHP's behavior "ridiculous" in a statement, while the firefighters' union president John Hess praised Gregoire's actions.
"I'm very proud of Jacob. He did a good job," he told CBS 8. "He made all firefighters look good. He was there to protect the citizens and he was willing to take a stand to do that."
The aftermath of the incident has revolved primarily around who was in the right legally. Speaking to the San Diego Union-Tribune, the city's fire deputy chief Steve Ricci acknowledged that CHP has jurisdiction over the roads, but said that since firefighters arrived on the scene first they had initially taken command of the situation.
"As to a formalized transfer of command to the CHP — I don't believe that ever took place," he added.
Both CHP and fire department officials met on Wednesday to discuss how to handle such situations moving forward. In a joint statement, the two departments called Tuesday's behavior an "unfortunate" and "isolated incident." They added it is "not representative of the manner in which our agencies normally work together toward our common goal."
Although rare, there have been other occasions in which a firefighter was arrested for refusing to move a vehicle. One notable case occurred in Missouri, where a firefighter filed a lawsuit against law enforcement officials who arrested him for blocking traffic at a crash site. He was ultimately awarded $17,500 in damages stemming from a false arrest.
You can share this story on social media: