​'Inventing new dragon to slay': Clinton's archaic campaign tactics slammed by Russian FM spokesperson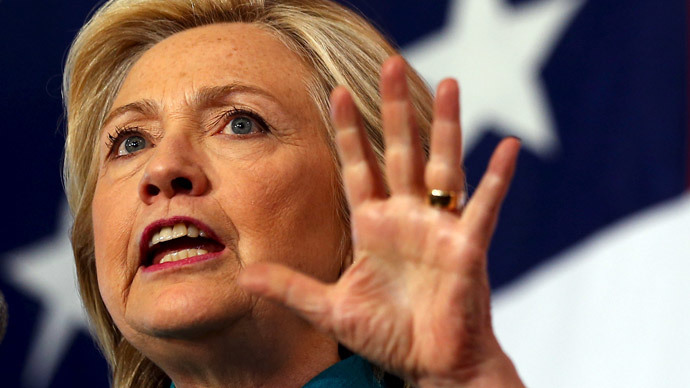 Hillary Clinton is running for US president on promises to protect Americans from "traditional threats" like Russia and a "rising" China, which Russia's FM spokeswoman described as coming directly from populist pamphlets of the last century.
"No other country is better equipped to meet traditional threats from countries like Russia, North Korea, and Iran – and to deal with the rise of new powers like China," the candidate for the Democratic presidential nomination, Hillary Clinton, said during her first major campaign speech on Saturday. "As your President, I'll do whatever it takes to keep Americans safe."
READ MORE: Obama is 'opportunist,' Hillary Clinton no different just 'more militant' - Chomsky
The head of the Russian Foreign Ministry's Press and Information Department, Maria Zakharova, struck back at the ex-US Secretary of State and former first lady, saying that the Democrats were apparently trying to create a "new dragon" in order to gloriously slay it.
"In order to defeat a dragon, the Democrats first needed to create it, which they have been doing successfully in recent years," Zakharova wrote on her Facebook page, adding that a proper election campaign required a new and worthy global enemy.
One small country like North Korea is a problem too insignificant for a "superpower, capable of basically anything," Zakharova said. And Iran, which the US is struggling to strike a deal with, is no longer a suitable candidate for the role of "global evil," she added.
According to Zakharova, Hillary Clinton is simply using outdated, but trusted, public relations techniques.
READ MORE: Hillary Clinton delivers first major campaign speech amid trust drop
"Why throw away the worn notebooks with lectures on pre-election populism, if 50-year-old PR-technologies are still working? It's good enough, as they say," Zakharova added. "So welcome! The new 'enemies of the American people' – the 'traditionally threatening' Russia and a 'rising' China."
Hillary Clinton's campaign has gotten off to a rough start, but her largest obstacles still appear to be in front of her in the form of indistinct policy stances and scandals that continue to weigh down her momentum and popularity.
You can share this story on social media: