Obama is 'opportunist,' Hillary Clinton no different just 'more militant' - Chomsky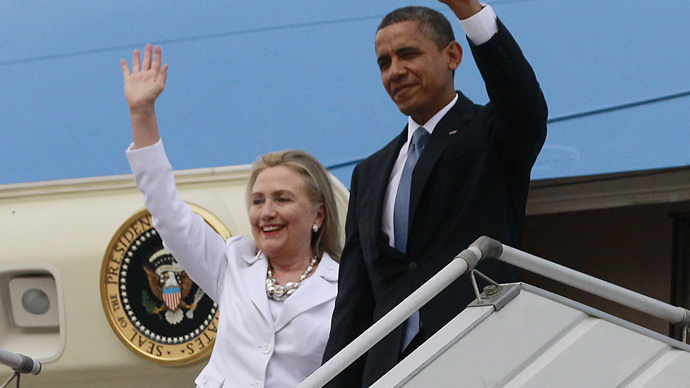 President Barack Obama is an "opportunist" with "awful" policies, one of the world's top intellectuals, American linguist Noam Chomsky, has said. He was extremely critical of Obama's use of drones in the Middle East and the secretive TPP trade deals.
"I'm not one of those who was disillusioned," the 86-year old author and political activist said in an interview with the WND website. Chomsky said he wasn't disappointed in President Barack Obama, as he simply "didn't expect anything" of him.
READ MORE: Hope to nope: Artist behind iconic Obama poster disappointed in president
"I wrote about him before the primaries in 2008, simply using his webpage - the way he was presenting himself - and he seemed to me like an opportunist," Chomsky said, adding that "the policies he was proudest of I thought were awful."
The intellectual didn't express any optimism for the prospect of a Hillary Clinton presidency either. When asked whether he saw any difference to Obama, he described the 2016 presidential candidate as much the same, "maybe a little more militant."
READ MORE: Repressive govts donated to Clinton Foundation, arms deals approved by Hillary's State Dept. - report
Chomsky also said he was disappointed in US elections in general, saying that the last vote in November 2014 showed an "abandonment of belief in any kind of a democratic system."
READ MORE: Families sue US govt, seek official apology over drone killings in Yemen
"Voting participation was about at the level of the early 19th century when the franchise was limited to propertied white males," the author of more than a hundred books said.
Having criticized the US health care system, Israel politics and reflecting on a number of 20th century historic events, including the Great Depression, WW2 and John F. Kennedy's presidency during the Cold War crisis, the father of modern linguistics was extremely critical of Obama's military policies in the Middle East.
Obama's use of drones against jihadist leaders "has essentially rescinded the principle that was established in the Magna Carta 800 years ago." Its principle element was the establishment of the presumption of innocence, Chomsky explained.
"With the drone assassination campaign, Obama has essentially rescinded this principle by officially designating a person as guilty if the White House decides that they might someday want to harm us," he said.
"If any other country were doing this, like Iran, we would consider it justification for a nuclear war," he added.
State Dept. prepares to give armed drones to allies http://t.co/bSkC6zWi7ppic.twitter.com/LCPay6ZmC9

— RT (@RT_com) February 18, 2015
Speaking about the controversy behind the Trans-Pacific Partnership (TPP) agreements, being negotiated behind closed doors by the Obama administration, Chomsky said the agreement is not what it's publicly said to be.
READ MORE: 'Profits over public health': Secret TPP Healthcare Annex published by WikiLeaks
"It's called a free-trade agreement, but it's not," Chomsky told WND. Saying that although no details are publicly available "because it is essentially kept secret," from all indications "it's like all the other agreements that are not free-trade agreements. They are investor-rights agreements."
"The idea is that the Obama administration wants to ram the deal through without public discussion," Chomsky added.
You can share this story on social media: