At least 18 injured after buses collide in NYC's Lincoln Tunnel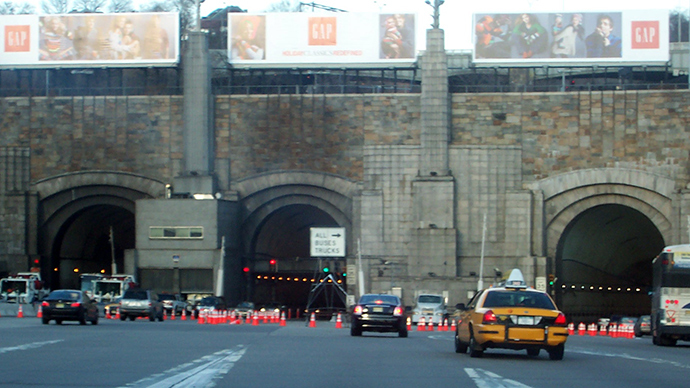 Two buses crashed into each other in the Lincoln Tunnel, which connects New Jersey and the island of Manhattan in New York City. Authorities said at least 18 people were injured in the collision. Part of the tunnel was closed for nearly three hours.
A New Jersey Transit bus rear-ended a private bus in the center tube of the Lincoln Tunnel, closer to the Manhattan side of the 1.5-mile thoroughfare, around 9:30 a.m. ET on Wednesday.
NY/NJ- LINCOLN TUNNEL BUS CRASH- VO- WED0149- Up to 18 injured inside tunnel in 2 bus crash. pic.twitter.com/xuJHaaCEeO

— CBS Newspath (@cbsnewspath) June 10, 2015
After 2 hours still stuck at the #lincolntunnel. At some point a cloud of smoke pic.twitter.com/GSgNFE2T15

— Nectali (@nectali61) June 10, 2015
A pregnant woman was on board one of the buses, a Port Authority officer at the scene told WPIX.
A group of 26 eighth-grade students and two staff members from a Toronto, Canada school were aboard the chartered bus that was rear-ended. They were headed to New York for a graduation trip, CTVNews reported. There are minor injuries among the students.
UPDATE: Woman in labor stuck inside Lincoln Tunnel after crash, source tells @PeiSzeCheng4NYhttp://t.co/IFh0n3eTxlpic.twitter.com/ZRAwJDDlJV

— NBC New York (@NBCNewYork) June 10, 2015
The New York Fire Department is currently on the scene, but wasn't called to respond until 50 minutes after the accident because the crash at first appeared to be on the New Jersey side of the tunnel, WNBC reported. Emergency responders from New Jersey handled the initial call.
@Hawgs38 RT @7News: Bus rear-ends another bus inside Lincoln Tunnel- 18 injured: http://t.co/Mk8W5dNgwK#7Newspic.twitter.com/m8zkbqgXox

— ~ jaci ~ (@wickedbruinsfan) June 10, 2015
The Port Authority of New York and New Jersey is warning drivers to avoid the Lincoln Tunnel. Delays are currently at least an hour and are likely to climb as the investigation continues, WPIX reported. The Holland Tunnel and George Washington Bridge are suggested detours.
NJ Transit buses are delayed 30 minutes into and out of Port Authority Bus Terminal in New York, the agency said. It is cross-honoring bus tickets on NJ Transit trains, WABC reported.
Chaos outside of Lincoln Tunnel after bus accident on center tube @CBSNewYorkpic.twitter.com/HpxXLT1wVu

— Matt Kozar (@MattKozarTV) June 10, 2015
About 42 million vehicles travel through the Lincoln Tunnel each year, or nearly 120,000 motor vehicles a day, the Port Authority says. The center tube, where the accident happened, is the oldest of the three under the Hudson River. It opened in 1937, followed by the north tube in 1945 and the south tube in 1957.
Each tube is two lanes wide, with the travel lanes in the center tube switching between New York-bound ‒ on weekday mornings ‒ and New Jersey-bound ‒ on weekday evenings. During non-rush-hour times, there is one travel lane in each direction.
Traffic at standstill in Lincoln Tunnel because of bus accident. pic.twitter.com/ZUQSi5dQ7V

— John Bennet (@slothead) June 10, 2015
The center tube also has one 2.5-mile contra-flow bus lane called an exclusive bus lane (XBL), opened in 1970. The XBL was the first of its kind on a US freeway. It operates between 6:00 a.m. and 10:00 a.m. on weekdays.