'I still love all!' Man beaten while defending community center gets inspiring support (VIDEO)
Published time: 6 Jun, 2015 11:55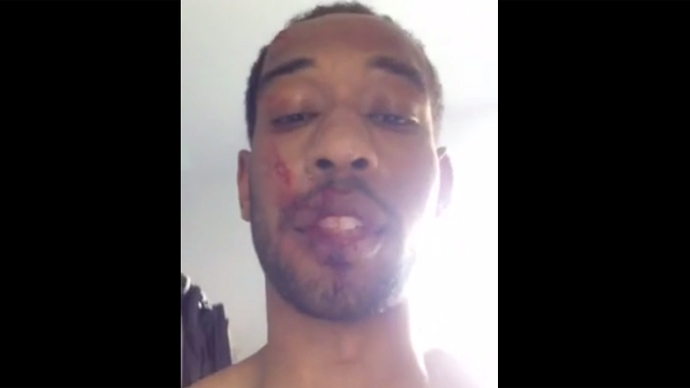 An Ohio man who was badly beaten by burglars while defending his community center has received a wave of support from across the internet after posting a video of his ordeal online.
Ronald Moon Jr. had a dream: to help those around him. The man from Cincinnati, Ohio, had been trying to convert his father's house and turn it into a community center, to provide services for local people.
The cuts and grazes are there for all to see as a heartbroken Moon recorded what he said would be "the hardest video I ever make," just 30 minutes after the attack happened. He struggled to hold back his tears as he described how he had been beaten up by three men and two women. The video has already been viewed by in excess of 850,000 people.
"Today I came across the people that have been breaking in there and this is what they did to me," he said on the video, which he recorded on his cell phone.
Burglars had made a habit of trying to break into the house, as this was anything but an isolated incident. During the ordeal, Moon asked the robbers why they were attacking him.
"I kept asking them why? Why? They could not say. They did not know why."
Even despite what he had gone through, he said, "I still love all my people, I love everyone."
Ronald Moon I feel sad about u and I hope u get well soon

— Laurence Rivers (@ecwgoodman58) June 5, 2015
Moon subsequently issued an emotional plea saying, "I'm tired of struggling, I'm sick of it. I'm just trying to do the best that I can for my people."
He subsequently set up a GoFundMe page for his community center on Thursday and left a message to say that he had not been seriously injured, while adding that he was totally focused on trying to get the center up and running.
"The goal I have is to offer this place as a space where ideas, skills, and resources can be shared among this neighborhood and with surrounding neighborhoods in Cincinnati," the message read.
Just saw that Ronald Moon video, sad man. People in Cincinnati need to track those people down and take up for that dude. Will def support.

— Tre Jenkins (@trejenkins92) June 6, 2015
Craft and jewelry making, carpentry, tailoring, gardening and plumbing are just some of the skills that Moon hopes that the community center can offer.
The response has been staggering, with the public offering support to Moon, who quit his job two months ago to give everything he had to try and get the community center up and running.
He intended to try and raise $5,000 but has managed to get over $50,000 in donations.
Moon says that the money will go "directly to restoration cost, application fees and food for volunteers."
"This is the grassroot and there will be many other ways to get involved," he said.