NASA and Verizon to monitor US drone traffic with phone towers - report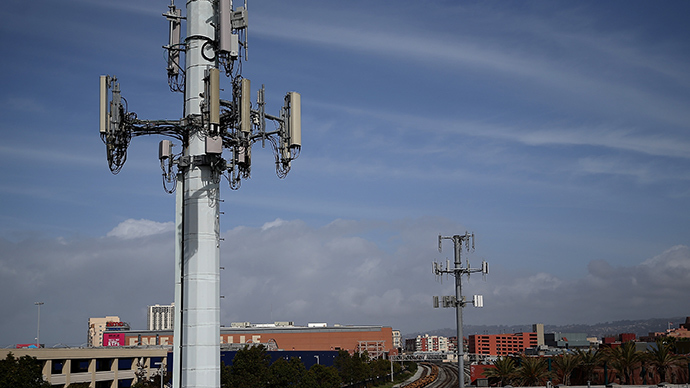 ​NASA and Verizon are investing in new technology that would use already existing cell phone tower networks to monitor civilian and commercial drones.
The federal agency is scheduled to begin testing this developing technology this summer. They are collaborating with Verizon to find a way to monitor private drone use, signing a $500,000 agreement last year to "jointly explore whether cell towers...could support communications and surveillance of unmanned aerial systems (UAS) at low altitudes," according to records obtained by the Guardian.
NASA is working on an air traffic control system that would use radar and orbiting satellites to direct drone flight paths over the United States. Verizon is expected to make a proposal by 2017 for allowing the use of its estimated 12,000 to 15,000 cell towers nationwide as a drone-tracking solution.
READ MORE: Unmanned, not untested: FAA unveils 2 drone programs to gauge UAV use
According to the Guardian's Mark Harris, "NASA is considering monitoring drones with a range of sensors including radar, orbiting satellites, and cell-phone signals. The UTM system is also likely to be cloud-based, meaning that drones will need an Internet link to download information about weather, traffic, and restricted zones. That combination makes using the existing phone networks very attractive."
The Federal Aviation Agency (FAA) has been trying to tackle the issue of private drone regulation for years, attempting to balance the obvious utility of the devices with the safety hazards posed by coexisting with other aircraft. The question will only become more salient, as the agency has estimated that private drones will become a $90 billion industry over the next 10 years, which is a conservative estimate according to the Washington Post.
The FAA has recently responded to pressure from Congress and private industry by hiring an adviser to deal with the "crush" of industry queries, accordingto Reuters.
You can share this story on social media: