Unmanned, not untested: FAA unveils 2 drone programs to gauge UAV use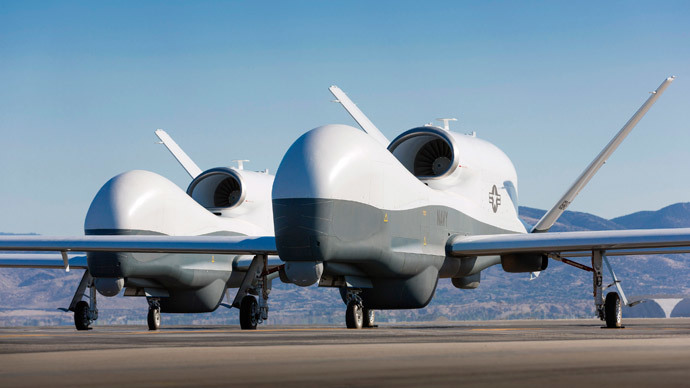 The Federal Aviation Administration is testing the skies with more drones. It has allowed three private companies to fly UAVs on data gathering missions and is launching an application that would tell amateur drone operators how not to break the law.
At a UAV conference in Atlanta, Georgia, on Wednesday, FAA Director Michael Huerta announced that his office has begun partnerships with three private sector companies who will soon fly drone missions with the agency's approval.

According to Huerta, the launching of the FAA's Pathfinder Program will give government regulators an idea of what to expect as drones become more prevalent in US airspace. CNN will test the use of UAVs in news gathering purposes, PrecisionHawk, a North Carolina-based manufacturer, will test drones with regard to surveying crop fields and BNSF Railroad will examine how unmanned aircraft may be used to inspect infrastructure in isolated areas.

"We anticipate receiving valuable data from each of these trials that could result in FAA-approved operations in the next few years. They will also give insight into how unmanned aircraft can be used to transform the way certain industries do business – whether that means making sure trains run on time, checking on the health of crops or reporting on a natural disaster," Huerta said.
Admin. Huerta: "Pathfinder Program will harness the energy around the unmanned aircraft industry" #faaUAS#Unmanned15

— The FAA (@FAANews) May 6, 2015

"Government has some the best and brightest minds in aviation, but we can't operate in a vacuum," US Transportation Secretary Anthony Foxx added in a statement. "This is a big job, and we'll get to our goal of safe, widespread UAS integration more quickly by leveraging the resources and expertise of the industry."

Additionally, Huerta announced at the Association for Unmanned Vehicle Systems International's conference this week that the FAA is rolling-out a new smartphone application that gives users the ability to check on whether or not they're near restricted airspace.
Crop monitoring to blossom with #faaUAS@PrecisionHawk UAS Pathfinder Program #Unmanned15pic.twitter.com/WcN1GSAfOa

— The FAA (@FAANews) May 6, 2015

"Technology has made it so that almost anyone can operate an unmanned vehicle without any prior aviation experience. At the same time, technology also provides us with an opportunity – to give these users the tools and knowledge they need to operate safely before they fly," he said.

To fly or not to fly? That is the law

The "B4UFLY" app, which the FAA plans to have made available to around 1,000 beta testers with Apple devices by this summer, is a "simple, easy-to-use app that answers a very basic safety question: is it safe and legal to fly my unmanned aircraft at a particular location?" Huerta said.

"That's a knowledge gap we need to fill. The United States has the most complicated airspace in the world. We need to make sure hobbyists and modelers know where it's okay to fly and where it isn't okay to fly – because there can be very real consequences if you don't," he added, highlighting later a recent security concern involving a drone that unfolded at the White House.

In January, a man borrowed a quadcopter hobbyist drone and was controlling it from his Washington, DC apartment when he apparently lost control of the aircraft. It was later discovered on the grounds of the White House, raising concerns about air safety in the nation's capital. Months later, those concerns were amplified when a Florida man flew a one-person gyrocopter from Pennsylvania to DC and landed on the National Mall as a means of protesting the Supreme Court's decision in the landmark Citizens United campaign finance case.
You can share this story on social media: