​Wisconsin officer who shot unarmed teen exonerated by police department
Published time: 4 Jun, 2015 00:15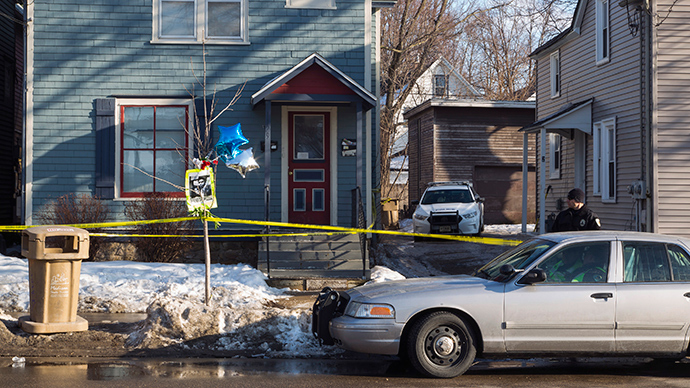 The Wisconsin police officer who fatally shot unarmed 19-year-old Tony Robinson in March has been exonerated by the Madison Police Department, making him eligible to return to work.
Officer Matt Kenny, 45, was cleared of wrongdoing following an internal investigation conducted by the department. Kenny, who is white, has been on paid leave since shooting Robinson, who was biracial, but police determined that the officer had not breached the department's deadly force rules during the incident.
READ MORE: Madison officer who fatally shot unarmed teen will not be charged – District Attorney
At a Wednesday press conference, Madison Police Chief Mike Koval said the department concluded Kenny followed police protocol during the incident and dismissed the suggestion, voiced by critics, that Kenny be removed from the force.
"To those who say I should relocate him, I really don't have a branch office in Butte, Montana, like the FBI," Koval said, according to the Associated Press. "Nor would I banish him to such. He is a viable member of the Madison Police Department."
Kenny can return to active duty, but he will first be assigned to the training division, reported local journalist Allison Geyer. He will also receive trauma counseling.
Jim Palmer, Kenny's attorney and the executive director of the Wisconsin Professional Police Association, said his client "looks forward to being able to continue his service to the people" of Madison.
More steps remain in Kenny's "transition plan" which includes trauma counseling, training #TonyRobinson

— Allison Geyer (@journalistish) June 3, 2015
However, Andrea Irwin, Robinson's mother, was angry with the outcome.
"They have decided to let a murderer back on the street," she told the Associated Press via email. "I am extremely upset about him getting to go back to a civil service position. The police department is not telling the whole story and the story they are telling is completely untrue."
In a statement, the Wisconsin chapter of the American Civil Liberties Union said "that either the Madison Police Department's policies or its internal investigations are deficient."
"The ACLU of Wisconsin is concerned that the recurring violence carried out by the Madison Police Department will continue unless the Madison Police Department finds better ways to handle critical incidents," the group said. "Another study or 'commission' is not likely to result in meaningful change. The Madison Police Department needs to change."
READ MORE: Madison cop who shot Tony Robinson also shot black motorist in 2007, video shows
The shooting took place on March 6 when Kenny responded to reports that a man had been "battered" by Robinson, police said. Several witnesses are said to have told police that Robinson was also "tweaking out" at a traffic scene, jumping onto the street and creating a safety hazard. Toxicology reports showed that Robinson had several drugs in his system at the time, including Xanax, marijuana and psilocybin (mushrooms).
Kenny arrived at the scene and followed Robinson into an apartment, apparently belonging to Robinson's friend, because he said he heard what might have been a disturbance inside. Once inside, a confrontation occurred and Robinson was shot. Kenny claims Robinson punched him and feared he would wrest away his gun.
Although Kenny tried to administer first aid, Robinson later died at a nearby hospital.
This isn't the first time Kenny has been involved in an armed confrontation. He fatally shot a black man named Ronald Brandon seven years ago, though it was later determined that Brandon – who allegedly brandished a pellet gun during the incident – committed "suicide by cop."