Military strikes won't end Iran's nuclear program – Obama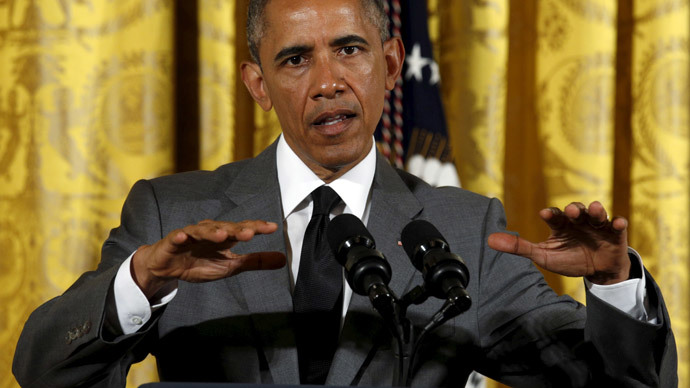 President Barack Obama defended nuclear negotiations with Iran, arguing that military action would not end the country's controversial nuclear program. He stated a deal with Tehran is the only way to ensure it does not develop a bomb.
Speaking with Israel's Channel 2 television program "Uvda," President Obama insisted that the best way to stop Iran from obtaining a nuclear weapon was through an agreement. Tehran is currently negotiating with the US and other world powers over its program as a June 30th deadline quickly approaches.
"I can, I think, demonstrate, not based on any hope but on facts and evidence and analysis, that the best way to prevent Iran from having a nuclear weapon is a verifiable, tough agreement," he reportedly said, according to the Israeli newspaper Haaretz.
The president went on to dismiss the idea that military action could destroy Iran's nuclear program and keep the country from permanently seeking a nuke.
"A military solution will not fix it, even if the United States participates, it would temporarily slow down an Iranian nuclear program, but it will not eliminate it," he said.
READ MORE: Iran says no to IAEA-managed access to several nuclear sites
The interview, set to air Tuesday evening, is seen as an attempt by Obama to convince Israelis that he will not sign onto a bad deal. Any final deal would require restrictions on Iran's nuclear program while lifting sanctions on the country.
Critics in the Israeli government, including Prime Minister Benjamin Netanyahu, have consistently criticized the emerging deal with Iran as weak while insisting that military action remains a viable option. Conservative political opponents in the US have also aired the same concerns.
New reports have also raised anxiety about the emerging deal, with one stating that Iran refused to grant access to the UN's International Atomic Energy Agency at several of its nuclear sites.
Another report stated that Iran would sit on a "dispute resolution" panel that would review any allegations of non-compliance on Tehran's part and issue a non-binding opinion before lifted sanctions can be reinstated. Critics contend that potential vetoes by Russia and China could make it more difficult for sanctions to be "snapped back" into place should Iran violate the agreement.
Negotiations with Tehran have raised tensions between Israel and the US to nearly unprecedented levels, reaching a point where Obama was asked about the possibility of Israel launching an attack on Iran without informing America beforehand.
"I won't speculate on that," said Obama. "What I can say is to the Israeli people, I understand your concerns and I understand your fears."