Musk defends receiving $4.9 billion in government support for Tesla, SolarCity and SpaceX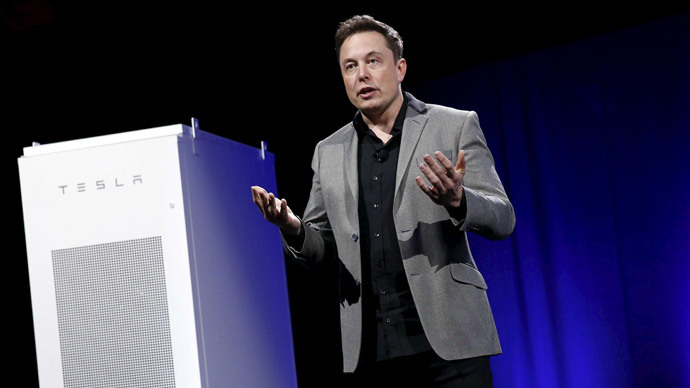 Tesla CEO Elon Musk defended the backing his companies get from state and federal sources as legitimate business practices, blasting a newspaper report about government subsidies as "inexcusable" and inaccurate.
According to the report published by the Los Angeles Times over the weekend, Musk's companies – Tesla, SolarCity and SpaceX – have received an estimated $4.9 billion in government support in total over the years.
The electric entrepreneur didn't deny the company gets the incentives, however he went on CNBC's Power Lunch show on Monday, blasting the report as "incredibly misleading and deceptive to the reader."
"I thought the article was incredibly misleading and deceptive to the reader." @elonmusk on subsidies story in @latimes. @CNBC

— David Montalvo (@montalvo_d) June 1, 2015
"Musk and his companies' investors enjoy most of the financial upside of the government support, while taxpayers shoulder the cost," wrote the LA Times, adding that public records show "a common theme running through his emerging empire: a public-private financing model underpinning long-shot start-ups."
READ MORE: Blast off! Air Force certifies SpaceX to compete for launch contracts
"The article makes it seem as though my company is getting some huge check, which is fundamentally false," said Musk.
The subsidies have been disclosed in the companies' filings and public records, but no one has tallied all the various forms of public assistance over time, the paper said. Its estimates of subsidies are based on state and federal records, interviews with local and state officials, credit analysts, and watchdog groups.
According to the LA Times, Tesla Motors has received $2.391 billion in government subsidies, while SolarCity has received $2.516 billion. Space Exploration Technologies (SpaceX), a private company that does not publicly report financial performance, received $20 million in local incentives and rebates for a space launch facility in Texas.
Among the examples cited by the paper was a $750 million solar panel factory in Buffalo, New York, which Musk's SolarCity leased for $1 a year. The company will also not pay property taxes for a decade, amounting to $260 million in savings.
#ElonMusk car fuel: #Tesla has received $4.9 billion in govt. subsidies incl $1.3 billion in "incentives" from Nevada http://t.co/g3gZVLewDx

— Mitch Fox (@Mitch_Fox) May 31, 2015
Tesla is getting $1.3 million from Nevada to build a battery factory near Reno, and has received more than $517 million from other automakers by selling environmental credits, known as carbon offsets.
Though after ten years in business Tesla and SolarCity still operate at a net loss, the stocks of both companies are riding high on future potential, the LA Times reported.
"None of the incentives are necessary. They are all helpful," Musk countered, describing the various incentives as catalysts that speed up the rate of innovation, offered because voters "want a particular thing to happen, and want it to happen faster than it would otherwise occur."
READ MORE: Big Oil's campaign donations result in taxpayer subsidies - report
He said the only incentives he actually asked for were for the launch site in Texas and the Nevada battery "gigafactory." Nevada is actually giving Tesla a tax break of just over $50 million a year over 20 years, Musk explained, amounting to just one percent of the facility's predicted $5 billion annual output.
He added that Moody's concluded the incentive was a boost to Nevada's credit rating.
Speaking to CNBC over the phone, Musk said the other automakers chose to buy Tesla's carbon credits rather than invest in electric car production themselves. He said Tesla's goal has always been to create an affordable mass-produced electric car, but that development and economies of scale just aren't there yet.
"Customers purchasing cars this year are directly helping to fund a more affordable electric car in the future," he said, adding that Tesla was hoping to have a mass-market model by 2017.
You can share this story on social media: