Big Oil's campaign donations result in taxpayer subsidies - report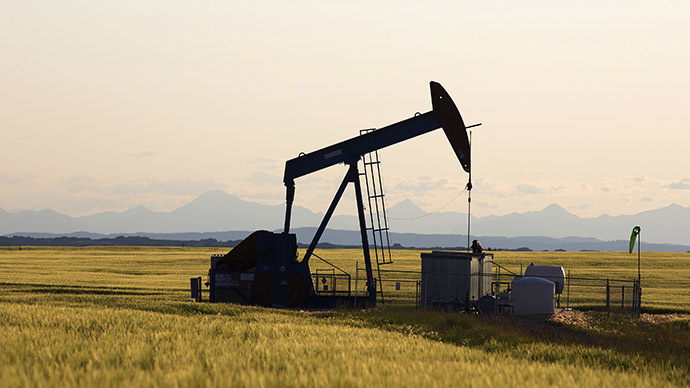 Oil companies making donations to politicians are getting massive tax credits in return, despite President Obama's 2009 call to stop subsidizing big oil, claims the Guardian following an investigation into three corporate projects.
Using a subsidy-tracking tool created by the nonprofit Good Jobs First, the paper's probe looked into projects by Shell, ExxonMobil and Marathon Petroleum, and discovered that in each case the companies received subsidies in the form of tax credits, from politicians who were receiving campaign contributions from the fossil fuel industry.
"At a time when scientists tell us we need to reduce carbon pollution to prevent catastrophic climate change, it is absurd to provide massive taxpayer subsidies that pad fossil-fuel companies' already enormous profits," the Guardian quoted Senator Bernie Sanders (I-VT), currently vying for the Democratic presidential nomination.
U.S. taxpayers subsidizing the world's largest fossil fuel companies investigation by @guardianhttp://t.co/H80KPAnisH#taxes#subsidies

— Jen DePaul (@TaxAnalystsJen) May 12, 2015
According to the paper, Marathon Petroleum is benefiting from two tax credits in Ohio, a 15-year credit for preserving 1,650 jobs, and a 10-year credit for creating 100 new jobs. The Good Jobs First database indicates the subsidies are worth $78.5 million, while the company posted a $2.4 billion profit that year.
The tax credits were approved in 2011 by Republican governor John Kasich, who received $213,519 in donations from oil and gas companies that year, according to a report by political watchdog group Common Cause.
READ MORE: Crude awakening: Shell's first-quarter profits plunge 56%
Shell's proposed refinery in Pennsylvania, worth $4 billion, is due for tax credits of $66 million a year for 25 years. The $1.6-billion deal was negotiated in 2012, when the company made an annual profit of $26.8 billion, says the Guardian. Republican governor Tom Corbett, who negotiated the deal, received over $1 million in campaign donations from the oil and gas industry.
Shell has spent $1.2 million on lobbying in Pennsylvania since 2011, and has secured supply contracts for up to 20 years, including from fracking companies extracting gas from the Marcellus shale field, the paper noted.
ExxonMobil's upgrades to its Baton Rouge refinery in Louisiana, second-largest in the US, are benefiting from $118.9 million in state subsidies over 10 years. The credits started in 2011, when the company made a $41-billion profit. According to environmentalist groups, Louisiana's Republican governor Bobby Jindal received over $1 million in contributions from oil and gas companies between 2003 and 2013.
#Shell Refinery In U.S. Collects $1.6bn In Subsidies While Shell Makes $26.8bn Profit http://t.co/YqBwrqknU7#climatepic.twitter.com/Kblo6qntbW

— Assaad Razzouk (@AssaadRazzouk) May 13, 2015
According to the Guardian, the coal, oil and gas industries received $550 billion in subsidies globally in 2013, the most recent year for which figures are available. The World Trade Organization (WTO) defines tax credits as a form of subsidy.
"Subsidies to fossil fuel companies are completely inappropriate in this day and age," said Stephen Kretzmann of the NGO Oil Change International (OCI). A 2014 investigation by OCI concluded US taxpayers were subsidizing fossil fuel exploration and production to the tune of $21 billion a year, despite President Obama's 2009 call to eliminate fossil fuel subsidies altogether.
READ MORE: Saudi Arabia announces biggest oil production surge in 30 years
"Every single well, pipeline, refinery, coal and gas plant in the country is heavily subsidized. Big Fossil's lobbyists have done their jobs well for the last century," Kretzmann told the Guardian.
While Shell and Marathon have issued statements defending the arrangements as legal and legitimate, a spokesman for ExxonMobil said the company was refusing to respond to the Guardian's inquiries "because of its lack of objectivity on climate change reporting demonstrated by its campaign against companies that provide energy necessary for modern life, including newspapers."
The report on subsidies was published as part of the Guardian's "Keep it in the ground" campaign, urging "the world's two biggest charitable funds to move their money out of fossil fuels."
You can share this story on social media: