​Blast off! Air Force certifies SpaceX to compete for launch contracts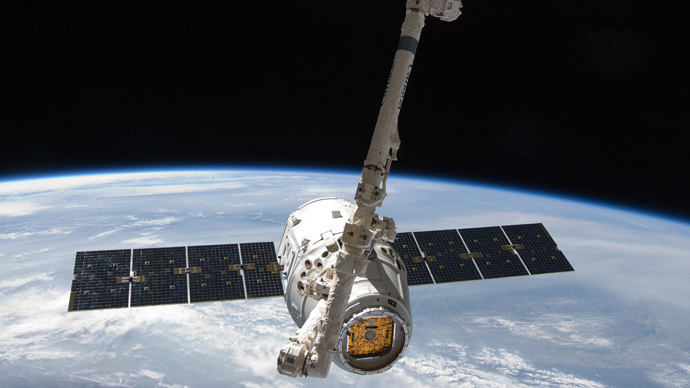 Space Exploration Technologies, or SpaceX -- the aerospace venture administered by billionaire entrepreneur Elon Musk -- has been given the green light to offer launch services to the United States Air Force.
The Pentagon said on Tuesday this week that the California-based company is now certified to bid on launch contracts, resolving a long and costly back-and-forth with regulators. It establishes for the first time a competitor for United Launch Alliance, the joint venture between Lockheed Martin and Boeing that has exclusively provided launch services to the Pentagon since 2006.
Musk fought to win the Air Force's approval for two years, according to Reuters, and even filed a lawsuit 13 months ago to protest the Department of Defense's decision to give ULA the rights to 36 future rocket launches, while dragging its feet on SpaceX's application.
READ MORE: SpaceX to challenge US Air Force rocket monopoly, citing Russia sanctions risk
With SpaceX now in the game, Musk and company are expected to offer its Falcon 9 rocket to the Air Force in June to compete against ULA over the rights to send a Lockheed-made global positioning system into space, Reuters reported.
In a statement, Musk called the decision "an important step toward bringing competition to national security space launch."
"SpaceX's emergence as a viable commercial launch provider provides the opportunity to compete launch services for the first time in almost a decade," added Air Force Secretary Deborah Lee James. "Ultimately, leveraging of the commercial space market drives down cost to the American taxpayer and improves our military's resiliency."
According to Reuters, the Air Force spent more than $60 million and utilized 150 staff to audit and evaluate SpaceX's services before signing off on the deal.
US Senator John McCain (R-Arizona), the chairman of the chamber's Armed Services Committee, praised the latest news after previously raising concerns about the future of the Air Force's launch program. Under this year's Pentagon spending bill, the Air Force is required to abandon Russian-made rocket engines, like the RD-180s currently used by ULA, by 2019. ULA said it's new US-powered Delta 4 rockets might not be ready for 10 years, raising questions about how the Air Force would get satellites into orbit without opening up its launch contracts to competition.
"The certification of SpaceX as a provider for defense space launch contracts is a win for competition," Senator McCain told Bloomberg News this week. "Over the last 15 years, as sole-source contracts were awarded, the cost of EELV [Evolved Expendable Launch Vehicle] was quickly becoming unjustifiably high. I am hopeful that this and other new competition will help to bring down launch costs and end our reliance on Russian rocket engines that subsidizes Vladimir Putin and his cronies."
READ MORE: Defense, intel chiefs ask Senate for more Russian rockets
According to Secretary James, the Air Force is expected to spend upwards of $70 billion on launches through 2030. ULA currently charges the Pentagon at least $160 million each time it deploys its Atlas V spacecraft, space consultant Marco Caceres told Bloomberg, and the decision to certify SpaceX "is going to force ULA to be much more competitive on price, but still maintain their high standards on performance," he said.
"This does jar the door open for SpaceX. It's theirs to lose. They have a vehicle that's proven and about half the price of the nearest competitor," Caceres said.
ULA responded to this week's news by saying it's "well-positioned to compete on a level playing field" and looks forward to competing with SpaceX "and other new entrants."
You can share this story on social media: