Taco Bell, Pizza Hut to remove artificial colors, flavors from food
Published time: 27 May, 2015 14:10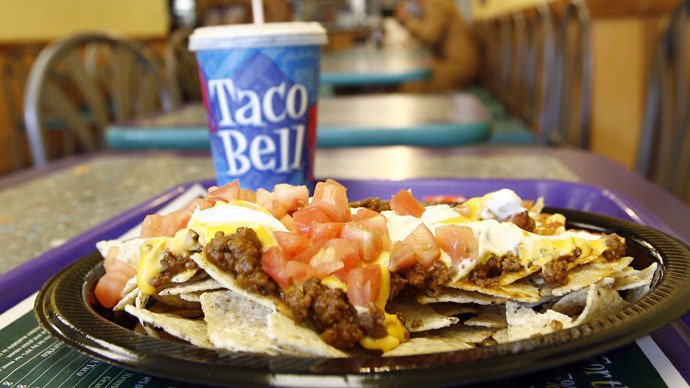 Fast-food titans Taco Bell and Pizza Hut have announced they will eliminate artificial coloring and flavoring from their food in the coming months and years. The chain restaurants are both owned by Yum Brands Inc.
Taco Bell said it plans to replace artificial flavors, colors, and some additives such as trans-fats with more natural ingredients by the end of 2015. It also pledged to remove more additives and artificial preservatives "where possible" by the end of 2017, according to Reuters.
Pizza Hut said it will attempt to move away from artificial flavors and colors in its US restaurants by the end of July.
New Brand Standards for Ingredients at Pizza Hut. Read more here: http://t.co/VtvY6lL9jQ.

— Pizza Hut (@pizzahut) May 26, 2015
Fast-food chains and major food manufacturers alike have recently announced attempts to nix unhealthy additives, genetically modified ingredients, and antibiotics important for medical uses in humans.
READ MORE: Protest for higher pay outside McDonald's HQ
Earlier this month, Panera said it would publicly list more than 150 artificial additives it has removed or will remove from its products.
Last month, Chipotle became the first major fast-food chain to drop genetically engineered ingredients, and Kraft announced it was moving away from artificial coloring in its macaroni and cheese. In February, Nestle USA said it was removing artificial flavors and certified colors from more than 250 of its products by the end of 2015.
Last year, Subway said it was removing a plastic-based chemical from its bread. In 2009, Starbucks announced it was moving away from baked goods containing high-fructose corn syrup, artificial flavors, and dyes.
In addition, Tyson Foods recently said it is eliminating use of medically-important antibiotics in its chickens. Perdue Foods announced last September that 95 percent of its chickens were raised without medically important antibiotics. In March, McDonald's announced it will stop buying chickens raised on human antibiotics within the next two years.
Chick-fil-A, the largest restaurant seller of chicken in the US, announced in February 2014 it would phase out antibiotic-raised chicken over a period of five years. Panera and Chipotle already serve antibiotic-free chicken.