Homes washed away as rainfall inundates south-central US (PHOTOS, VIDEOS)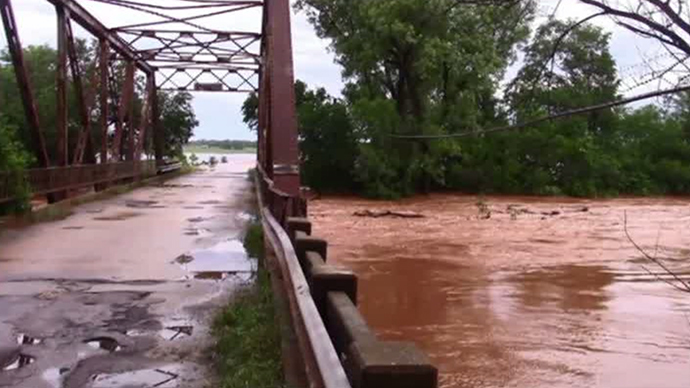 Heavy rainfall, floods and tornadoes have devastated southern-central US, killing several people, washing away houses and forcing thousands to flee. Rivers rose so fast that entire communities woke on Sunday surrounded by water.
At least one person was killed in Texas – a man, whose body was recovered from a flooded area along the Blanco River, the authorities said, adding that the river rose 7.9 meters (26ft) in just one hour.
About 1,200 residents in Hays County are now homeless after the Blanco River flooding.
Be careful #SMTX RT @impickinuoff: @KVUE the aspen Apartments in San Marcos pic.twitter.com/VhO7GmeTqh

— San Marcos (@CityofSanMarcos) May 24, 2015
@NEWS9 flooding down town chickasha pic.twitter.com/nyZG1tRwqy

— charla salyer (@charlarocks) 24 мая 2015
From 350 to 400 homes were destroyed in a small town of Wimberley. Many of them were washed away, according to emergency management coordinator Kharley Smith from Hays County. At least three people are still unaccounted for.
"It looks pretty bad out there," Smith told AP. "We do have whole streets with maybe one or two houses left on them and the rest are just slabs."
The town of San Marcos saw about 300 damaged homes, she added.
"[My husband] told me there was 2 inches of mud," Tami Mallow, 41, from San Marcos told AP. "I don't know what the cleanup process is going to be."
EVACUATIONS for some parts of the City. Details at https://t.co/xnaQ8xAPcw

— San Marcos (@CityofSanMarcos) May 24, 2015
About 1,000 people were evacuated in central Texas. Also Montgomery County Office of Emergency Management forced another 1,000 people to evacuate due to heavy rainfalls.
In Hays County people were rescued from rooftops, officials said.
"Never in our wildest imagining did we think about the wall of water that would some so quickly or cause so much destruction," Judge Bert Cobb of Hays County told a morning news conference.
An apartment complex in Houston, Texas was heavily damaged by a tornado which also toppled trees and blew out windows. At least two people were taken to the hospital.
Precipitation extremes across the CONUS in the last 2 weeks. More Flash Flooding in the Southern Plains. #vtwx#nywxpic.twitter.com/uajIS4w4JP

— NWS Burlington (@NWSBurlington) May 24, 2015
READ MORE: Dozens injured, houses destroyed: Powerful storms ravage central US (PHOTOS, VIDEOS)
At least two people have been killed in Oklahoma, the state's Department of Emergency Management said. A firefighter, Captain Jason Farley, was trying to rescue people from high water, but was swept into a drainage ditch. A woman in the city of Tulsa was killed in a traffic-related accident.
7-day rainfall forecast from @NWSWPC. More heavy rain forecast for areas that do not need the rain. #mewxpic.twitter.com/C4TsVaLjYY

— NWS Caribou (@NWSCaribou) May 24, 2015
Ugh. MT @amberd_kvue: Drivers coming at us head on S/B #I35. We're assuming because the road is shut down up ahead. pic.twitter.com/WScRfKzkKi

— Dispatch Demon (@DispatchDemon) May 24, 2015
This May is the wettest month for several places in the Southern Plains states. Oklahoma City saw 27.37 inches (70cm) of rain this month. Last year it got only 4.29 inches.
After work. Had to navigate around all this! Shoulda stayed at rosella! Be safe out there everyone. #satx #torrentialrain

A photo posted by Omar Rosel (@ohms34) on May 23, 2015 at 10:58pm PDT
"It looks like the rainfall that we're getting now may actually officially end the drought," that has struck the Southern Plains states for years, said Meteorologist Forrest Mitchell at National Weather Service office in Norman, Oklahoma.
Crews try to clean up and repair Ranch Road 12 damaged by the Blanco River after heavy overnight rain caused flash flooding in Wimberley, Texas, on Sunday, May 24, 2015. Photo by Rodolfo Gonzalez (@gonzorudy)/American-Statesman. Central Texas is getting a temporary reprieve from the heavy rains right now, but by Monday afternoon forecasts indicate rain should return to the Hill Country, again putting the region at risk of flooding. Go to statesman.com for the latest weather updates. #statesmanphoto #txweather #txflood #smtxflood #sanmarcosflood #sanmarcos #hayscounty #blancoriver #wimberley #wimberleyflood

A photo posted by Austin American-Statesman (@statesman) on May 24, 2015 at 8:40pm PDT
The meteorologists issued flash flood watches for Arkansas, Missouri and Kansas, while tornado warnings were issued for Illinois, Iowa, Kansas and Missouri.
#Repost @marianaveraza with @repostapp. ・・・ Más de 1,300 casas dañadas debido a las lluvias en el condado de Hays. El juez de este condado Dr. Bert Cobb ha declarado esta zona como zona de desastre. #HaysCounty #DisasterArea #univision41satx

A photo posted by Univision 41 San Antonio (@univisionsatx) on May 24, 2015 at 3:44pm PDT
#Repost @statesman ・・・ DPS Trooper Marcus Gonzales walks on the Hwy 12 bridge over the Blanco River in Wimberley, which was blocked by large trees after the flood on Sunday, May 24, 2015. At least 1,000 people are in shelters in Wimberley and San Marcos, officials said in a news conference Sunday morning. At least 400 homes in the two communities have been destroyed and many more are damaged, officials said. Photo by @JayJanner/American-Statesman. Follow statesman.com for updates #statesmanphoto #atxweather #txflood #wimberley #hayscounty

A photo posted by Kenneth Merian (@kmerian) on May 24, 2015 at 2:14pm PDT
You can share this story on social media: