Dozens injured, houses destroyed: Powerful storms ravage central US (VIDEOS)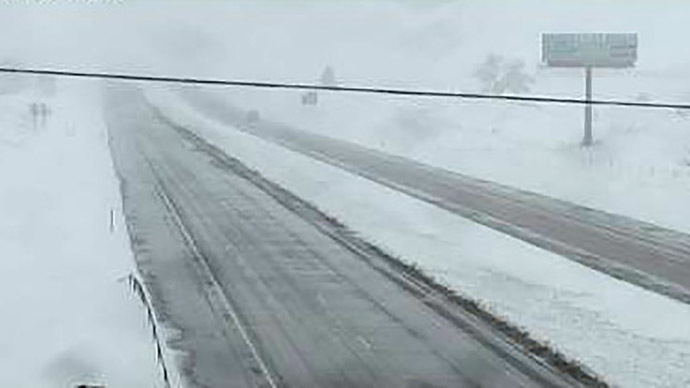 Snow, flooding and powerful tornadoes have ripped through many central US states, emergency officials said. The most affected were Texas and South Dakota where dozens of people have been injured and many houses were left in ruins.
Video: A mobile home park in Nashville, Ark., leveled by an overnight storm - @glesnickhttps://t.co/yGP9SDVsAU#breaking-news

— Pete Santilli (@PTSantilli) May 11, 2015
.
I don't need a river to float. I'll do it in my front yard. @jackson.kayak #yak #kayakangler #rainproblems #Arkansas #fishing #schoolzone

A photo posted by Patrick Hanby (@trickybusinessoutdoors) on May 11, 2015 at 5:37am PDT
The storm hit eastern Van Zandt County and the town of Van in northeast Texas on Sunday, the Van Zandt County fire marshal and emergency management coordinator Chuck Allen said. At least 26 people have been taken to hospital with injuries.
It's been a seemingly endless convoy of emergency personnel in Van. #VanTornadopic.twitter.com/Jrx8ghwdrk

— Cody Lillich (@CodyLillich) May 11, 2015
About 30 percent of Van, a town with 2,500 people, was damaged.
"Damages range from completely destroyed homes, damaged homes, to trees and power lines down," Allen said, adding that utility companies are now restoring "vital infrastructures." Also the American Red Cross is to open a shelter at First Baptist Church in Van, Allen said.
At least six people have been pulled out of homes by rescue helicopters in Denton County thunderstorms brought heavy rains in the area, officials said.
The storms have been affecting Texas for almost a week now. On Saturday, one person was killed in a tornado.
READ MORE: Trail of destruction as tornadoes rip through Texas (IMAGES)
Powerful storms have also hit South Dakota where at least nine people received non-threatening injuries. A local Lutheran Church and 20 more buildings have been destroyed.
"Our house is flat. There is nothing left," Stephanie Lunder Delmont told AP.
The officials have been evacuating the residents of Delmont, a town of 234 people.
"It's a voluntary evacuation: there's no water, no heat, no electricity," Tony Mangan, public information officer for the South Dakota Department of Public Safety, told Reuters.
David Mathews, 70, who owns Old Bank Mini-Mart in Delmont, said that the storm was very fast.
"We were in our house and knew something was going on and getting ready to go to the basement, then it was over. We just built a brand new fire hall and it was destroyed. Also a row of houses near the fire hall."
The Black Hills, a small, isolated mountain range, in South Dakota has seen 30cm of snow.
Tornadoes hit central Iowa where a roof from a high school was ripped off. Snow fell in parts of the Rocky Mountains and western Nebraska.
NHC has issued its last advisory on #Ana. Future public advisories will be issued by @NWSWPChttp://t.co/sEjzNhZLmFpic.twitter.com/F2RAwvtPAA

— Natl Hurricane Ctr (@NHC_Atlantic) May 10, 2015
A tropical storm has struck the southeastern US as it created wet and windy conditions in North and South Carolina.
The Miami-based National Hurricane Center said the Tropical Storm Ana should be taken seriously and issued a 14 advisory, saying that "Ana [is] moving farther inland across North Carolina."
#ajwamood : #USA : Photo for damaged in Lake City, #Iowa yesterday evening due the tornado pic.twitter.com/OBU1nZJF3A

— شبكة أجواء (@ajwamood) May 11, 2015
TORNADO WATCH in effect for yellow shaded counties. Tornadoes, large hail and damaging winds possible. #arwxpic.twitter.com/hLlhVrOiKS

— Pat Walker (@PatWalkerWX) May 11, 2015
You can share this story on social media: