Trail of destruction as tornadoes rip through Texas (IMAGES)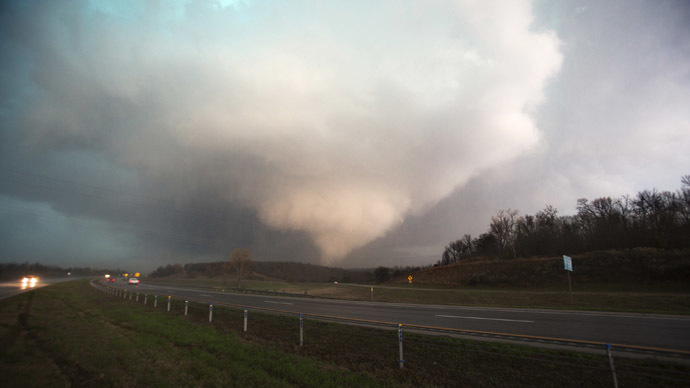 One person was killed after at least two tornadoes tore through parts of northern Texas. Meteorologists warned of worsening weather conditions for a broad swath of the state just days after several Great Plains states were pummeled by tornadoes.
The twister touched down about 5 miles (8 km) south of Cisco, a small rural town about 100 miles west of Fort Worth, where it tore through several homes in its path, Eastland County Judge Rex Fields, the local emergency management coordinator, told Reuters.
These people survived this tornado pic.twitter.com/wDmNCHU3sV

— Jack Douglas Jr. (@JackDouglasCBS) May 10, 2015
A tornado in north Texas has killed one person and destroyed at least two houses http://t.co/XB0msxWoRJpic.twitter.com/sF9hLs0NYS

— ITV News (@itvnews) May 10, 2015
Another tornado was reported in Burkburnett, Texas, about 15 miles north of Wichita Falls, according to a police dispatcher, AP reported. She said the town sounded its tornado warning siren just before 6 p.m. Saturday.
Wow #txwxpic.twitter.com/vRoVhNAAdR

— Brian (@BrianKhoury) May 9, 2015
Pano of tornado warned storm near Bluffdale, Texas #txwxpic.twitter.com/fiYritgCQQ

— Brian (@BrianKhoury) May 10, 2015
Meanwhile, the National Weather Service lifted to "moderate" the possibility of more tornadoes across North Texas.
At least 1 dead as two tornadoes touch down in North Texas http://t.co/cApBc8iH1apic.twitter.com/4rMk49qcsP

— ABC7 Eyewitness News (@ABC7) May 10, 2015
"As expected, the environment in North Texas is particularly favorable (for tornadoes)," said Bill Bunting, the chief of operations at the Norman, Oklahoma-based Storm Prediction Center.
One person dead, others missing after tornadoes strike north Texas: http://t.co/NudiKAWd0ypic.twitter.com/VaMUBVGyLW

— CBS News (@CBSNews) May 10, 2015
In eastern Colorado, three tornadoes were spotted Saturday, according to the weather service. There were no reports of injuries or property damage.
Twisters also touched down on Saturday in western Kansas but thus far no injuries have been reported, said meteorologist Liz Leitman of the weather service's Storm Prediction Center.
Cone tornado just to the SE of Kit Carson, Colorado. #cowxpic.twitter.com/HSmbIinW8H

— Justin Hughes (@jhughes722) May 9, 2015
On Wednesday, severe weather pounded the region from Texas to Nebraska with dozens of reported tornadoes, including several that touched down in Oklahoma, causing one fatality, injuring 12 and destroying buildings.
In another part of the country, Tropical Storm Ana - the first tropical storm of the season - was situated 20 miles southeast of North Myrtle Beach, South Carolina, as of 2 a.m. ET, according to the National Weather Service.
The storm is expected to reduce in strength as it moves over colder water close to the coast.
Tornado On the ground. Large and damaging. Moving due east. About to cross 183 pic.twitter.com/qBRZUQoALP

— Brian (@BrianKhoury) May 9, 2015
You can share this story on social media: