US military rape victims face revenge, regret reporting crimes – lawyer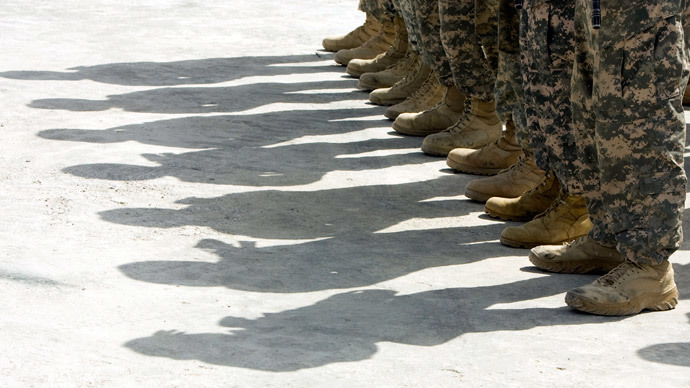 The US military's system of prosecution has to change, as rape victims are often put in positions where they even regret coming forward, Maribel Jarzabek, ex-Air Force lawyer, said on a recent HRW survey of sexual assault survivors.
Of those who answered the US Army's call to come out as sexual assault victims, 62 percent are facing backlash from their commanders and fellow servicemen, a report released by Human Rights Watch earlier this week stated.
The victims are "spat on, deprived of food, assailed with obscenities – whore, cum-dumpster, slut, faggot – threatened with 'friendly fire' during deployment… demoted, disciplined [or] discharged for misconduct," the paper entitled "Embattled: Retaliation against sexual assault survivors in the US military" said.

According to HRW, only 5 percent of sexual assault cases in the US military lead to convictions of the perpetrators.

"Virtually no-one is held accountable" for retaliating against those reporting rape and other abuses, the report added.
READ MORE: US military fails to protect sexual assault reporters from retaliation – HRW
Maribel Jarzabek, former special victims' counsel (SVC) assigned to represent US Air Force service members reporting sexual assault, who was mentioned in the HRW report, said that the situation with retaliations is in the military "serious."

Jarzabek told RT of "the most extreme case" of backlash among the 42 clients she had while working as a SVC between June 2013 and December 2014.

"In the report, one of my clients was senior airman Beth Robinson – that's not her real name because she's worried that if her name gets out, the leadership will keep retaliating against her because she's still facing difficulty in her unit," she said.

After Robinson reported a sexual assault, "we went to meet with the commander and she cried during the meeting…because the individual [responsible for the assault], who was coming back from deployment, lived in the room right next to her," Jarzabek said.
The woman's tears were quickly used against her as the "leadership took away her guns because they said she was too emotional because she cried at the meeting."

The victim was then assigned to a new position, which was very stressful for her, and where her every mistake was documented "because if you do that you can get a military member get kicked out from the Air Force for having so many minor disciplinary infractions," the lawyer said.
The events occurred shortly before Robinson was to get a long-awaited deployment. This was made impossible, however, with the confiscation of her guns.

According to Jarzabek, the commander initially promised to return her client's guns, if she was "no longer involved in the investigation or until the case is complete." Robinson "ended up dropping out of the case" because she wanted to be deployed.

As soon as this happened, however, the commander retracted his earlier words and still "wouldn't allow her to get her guns back," she said.

"My client was really upset; she couldn't do her job; she couldn't deploy; couldn't do anything – all because she reported this investigation. So, she regretted reporting," the lawyer stressed.

Robinson was transferred to another supervisor in order to keep her on the force, but she is still "facing a tough time" at the new place, she said.
"Wherever she goes male servicemen tell others: 'Don't hang out with her because she'll falsely accuse you of rape. She's a walking SARC (Sexual Assault Response Coordinator) complaint," Jarzabek said.
READ MORE: US troops, contractors sexually abused Colombian girls with impunity – report
The HRW report also describes a US marine, who had her car vandalized and received numerous threats on social media from fellow servicemen after saying she was sexually assaulted.

"Find her, tag her, haze her, make her life a living hell," one of the comments said, while the other urged the woman to be silenced "before she lied about another rape."

A male victim was attacked with a knife and told by his supervisor that he would kill him if they ever served in Afghanistan, because "friendly fire is a tragic accident that happens."

Jarzabek faced retaliation for representing sexual assault survivors, as her commanders blamed her for being "too victim-centered" and "burning bridges" with her colleagues.

She eventually had to quit the Air Force after her performance rating was downgraded, but continued working on assault cases as a civil lawyer.

The lawyer says the system has to be changed if the US Army really wants to do justice to sexual assault victims.

"Commanders have a difficulty right now when they have… both victim and the accused in their unit so they're responsible for them" as they have to decide "who's lying" and "whether to take a case for it or not," she said.

Jarzabek believes that prosecutorial authority should be taken away from commanders and given to professional prosecutors "so that the commander would be able to support both the accused and the victim, without making the choice."

The Army should also instruct all of its personnel, not only frontline supervisors, that retaliation against sexual assault victims is a crime, as "a lot of young servicemen don't know that," she said.

The way things stand at the moment, "if I was a sexual assault victim and if I had a choice to report I wouldn't report right now until more changes happen to the system," Jarzabek stressed.
According to an annual report by the US Department of Defense, 20,300 American service members were sexually assaulted in 2014.