2 DEA agents lied about owning New Jersey strip club – federal govt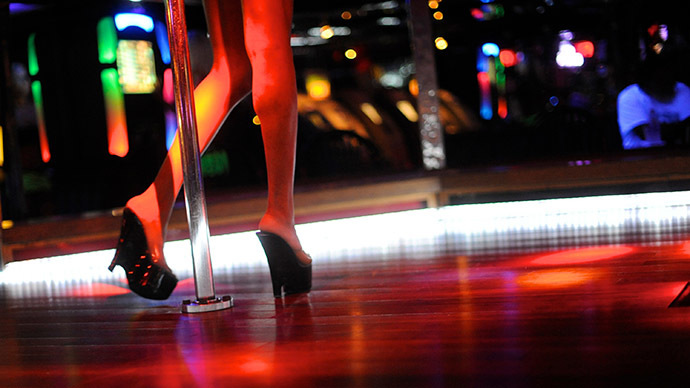 Two veteran Drug Enforcement Agency employees allegedly lied on government security forms about not having outside work, despite owning a New Jersey strip club. The club employed illegal immigrant dancers from Russia and Brazil.
The DEA employees owned a low-rent strip club, called the Twins Plus Go-Go Lounge, in South Hackensack, New Jersey, the federal government said in a new criminal complaint unsealed in New York's Southern District Court. The two employees surrendered in Manhattan on Wednesday and have been charged with one count of making false statements.
If convicted, they could face up to five years in prison. Both were released without bail after a short court appearance.
Like Sopranos, except w/ feds: DEA agents busted running strip joint in S. Hackensack NJ with undocumented immigrants http://t.co/nHl4C0MsW4

— Magister Verz (@subverzo) May 20, 2015
According to the complaint, retired Agent David Polos, 51, and employee Glen Glover, 45, who is on administrative leave, supervised the club via computer and smartphone apps during paid DEA shifts. They allegedly lied about outside employment on government paperwork. By failing to declare outside employment, both employees could have put themselves "in proximity to crime" and at risk of being blackmailed, said the complaint.
READ MORE: DEA chief quits after losing lawmakers' confidence
"David Polos and Glen Glover had important and sensitive law enforcement jobs with the DEA. As alleged in the Complaint, they also had other secret jobs, which they concealed from DEA in order to maintain their national security clearance, betraying the oaths they had taken and creating needless risk for the agency they worked for,"said Manhattan US Attorney Preet Bharara in a statement.
The Twins Plus Go-Go Lounge was successful, as records showed that Glover made a series of large cash deposits totaling $600,000 from 2011 to 2014. It was, however, repeatedly cited by state regulators because the dancers over-exposed themselves, and also took money for sex in private lap dance rooms, according to the complaint.
"At this time we cannot comment on the specifics of the matter as it's an ongoing investigation," DEA spokeswoman Erin Mulvey said to the New York Post.
The evidence includes surveillance reports and intercepted texts. One video recovered during a search of the club, including recordings from inside the private rooms, showed that "there appear to be multiple instances of sexual contact between dancers and patrons, with money exchanged afterward," the complaint stated.
READ MORE: 'Out of Control:' DEA chief grilled over agents' sex parties dating back to 2001
Other evidence includes intercepted text messages in which Polos joked about bringing President Barack Obama to the club so that he could "check out" certain dancers.
More intercepted texts showed Glover telling an employee that he was bringing two state troopers to the club who didn't know Glover was the owner. The manager responded that he would brief the other employees.
Agent Polos supervised the DEA's New York Organized Crime and Drug Enforcement Strike Force until last month, when he retired. He ran a task force of agents from multiple agencies targeting major drug-trafficking organizations.
A lawyer for Polos, Avraham C. Moskowitz, told The New York Times that his client had a distinguished career at the DEA.
"We believe these charges are unwarranted and meritless, and we look forward to fighting the charges and having Mr. Polos exonerated."
Attorney Cathy Fleming said she's confident Glover will be vindicated, saying, "Mr. Glover is a well-respected, highly decorated long-term DEA employee. We're going to try this case in the courts, not in the press."
You can share this story on social media: