DEA chief quits after losing lawmakers' confidence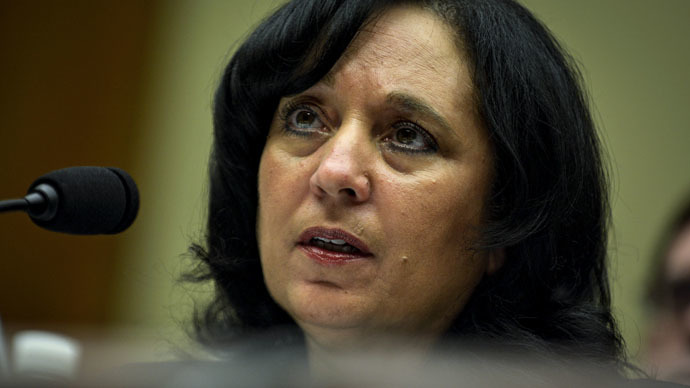 The head of the Drug Enforcement Agency (DEA) Michele Leonhart is retiring following reports of agent misconduct and a no-confidence vote by a House of Representatives oversight committee. She will leave the post in mid-May.
Despite being expected to resign from her position, Leonhart chose to retire from federal service instead. She informed Attorney General Eric Holder of her decision on Tuesday afternoon.
"I want to express my appreciation to Michele, not only for her leadership of the DEA since 2007, but also for her 35 years of extraordinary service to the DEA, to the Department of Justice and to the American people," Holder said in a statement.
Leonhart's departure follows an Inspector General's report alleging misconduct by DEA agents on her watch.

— Mark Knoller (@markknoller) April 21, 2015
Holder praised Leonhart as a "trailblazer for equality and an inspiration to countless others," and wished "my good friend Michele all the best as she embarks on this next chapter in what is a remarkable life."
Agents and employees of the DEA are "some of the finest law enforcement officers in the world," he said, adding that "Going forward, I have no doubt that the women and men of the DEA will continue to perform their duties with the utmost integrity, professionalism and skill."
READ MORE: 'Out of control': DEA chief grilled over agents' sex parties dating back to 2001
"In light of the DOJ Inspector General's report and the testimony we heard before our committee, Ms. Leonhart's retirement is appropriate," said Chairman Jason Chaffetz (R-Utah) and Ranking Member Elijah Cummings (D-Md.) of the House Oversight and Government Reform Committee.
Last week, the committee grilled Leonhart over reports by the DOJ's Inspector General, which indicated that DEA agents had been involved in a series of sex parties with prostitutes in Colombia and at other locations, dating as far back as 2001. These were paid for by the very drug cartels they were sent to suppress.
Following the hearing, Leonhart claimed 10-day suspensions were the most severe punishments she could have doled out to the rogue agents, due to civil service regulations. The committee issued a statement expressing no confidence in Leonhart's leadership and called for her resignation.
"Administrator Leonhart… lacks the authority and will to make the tough decisions required to hold those accountable who compromise national security and bring disgrace to their position," said the document endorsed by Chaffetz, Cummings and 20 other lawmakers from both parties.
READ MORE: Hookers & blow: Colombian drug cartels funded DEA sex parties with prostitutes
Following the March report by the Inspector-General revealing that agents had engaged in drug-and-sex parties sometimes even funded by the drug cartels, the Department of Justice issued a memo banning all personnel from "soliciting, procuring, or accepting commercial sex," whether on or off duty and "regardless of whether the activity is legal or tolerated in a particular jurisdiction, foreign or domestic."
Leonhart was acting Administrator of the DEA since November 2007, and was officially confirmed at the post in December 2010. The DEA has the largest international footprint of any US federal law enforcement agency, with 833 personnel permanently assigned to 86 foreign offices in 67 countries, including 459 Special Agents as of 2014.
You can share this story on social media: