Hookers & blow: Colombian drug cartels funded DEA sex parties with prostitutes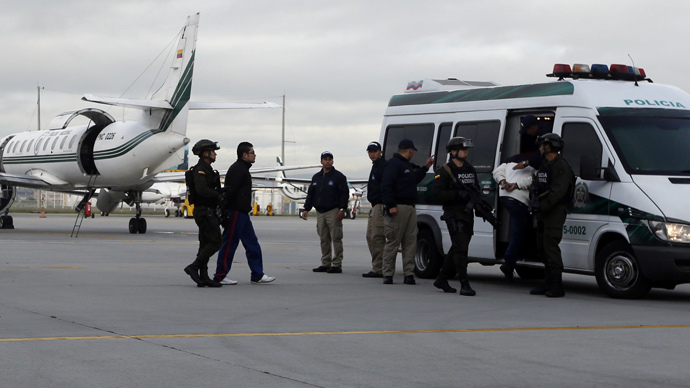 Drug Enforcement Agency officials caroused with prostitutes in Colombia at "sex parties" funded by drug cartels. Although the behavior resulted in "possible significant security risks," it wasn't reported up the chain of command, a new DoJ report says.
When looking into cases of sexual misconduct and sexual harassment allegations within the Drug Enforcement Agency (DEA), the Department of Justice's (DoJ) Office of the Inspector General (OIG) found that up to 10 DEA agents – including an assistant regional director (ARD) – "solicited prostitutes and engaged in other serious misconduct while in the country," but that those incidents were not reported to the DEA's Office of Professional Responsibility (OPR).
The report did not name the country, but Politico reported that the activities took place in Colombia.
Colombian sex parties
The OIG investigators interviewed a former host-country police officer who told them he had "arranged 'sex parties' with prostitutes funded by the local drug cartels for these DEA agents at their government-leased quarters, over a period of several years" from 2005 to 2008. Another foreign officer said that he had provided protection for the DEA agents' weapons and property during the parties and that "in addition to soliciting prostitutes, three DEA [supervisory agents] in particular were provided money, expensive gifts, and weapons from drug cartel members."
READ MORE: Obama's dirty dozen: Secret Service men behaving badly in Colombia
"Although some of the DEA agents participating in these parties denied it, the information in the case file suggested they should have known the prostitutes in attendance were paid with cartel funds," the OIG report states.
Two of the DEA agents who were subjects of the investigation told the OIG that one of the supervisory agents "frequented a prostitution establishment while in their overseas assignment and often took agents serving on temporary duty to this establishment and facilitated sexual encounters there."
A DEA inspector who worked with the investigators told them that "prostitution is considered a part of the local culture and is tolerated in certain areas called 'tolerance zones,'" and that "it is common for prostitutes to be present at business meetings involving cartel members and foreign officers," the report states.
READ MORE:'More than 10' – Pentagon says prostitute scandal could be bigger than first thought
The inspector added that the acceptability of this type of behavior affects the way in which federal law enforcement employees conduct themselves in Columbia, noting that agents needed better training that explicitly prohibits this type of conduct prior to arriving in the country.
The OPR did not report the sex parties or employment of prostitutes to the DEA Office of Security Programs to identify security risks to the DEA and to assess the agents' continued eligibility for security clearances. This was despite the fact that the DEA inspector had explained to OPR management that most of the "sex parties" occurred in government-leased quarters where agents' laptops, BlackBerry devices, and other government-issued equipment were present, which created potential security risks for the DEA and for the agents who participated in the parties, potentially exposing them to extortion, blackmail, or coercion, she told OIG.
READ MORE: Secret Service prostitution scandal investigator resigned after being accused of paying for sex
On top of security risks to the US, the agents' activities also risked prosecutions against the drug cartels in Colombia.
"We found that some of the DEA Special Agents alleged to have solicited prostitutes were also involved in the investigations of the two former host country police officers who made these allegations," the OIG investigators wrote. "If these Special Agents had served as government witnesses at the trials of these defendants, their alleged misconduct would have had to be disclosed to defense attorneys and would likely have significantly impaired their ability to testify at trial."
In the end, seven of the 10 agents admitted attending parties with prostitutes while they were stationed. The DEA, which first learned of the parties in 2010, imposed penalties ranging from a two-day suspension to a 10-day suspension. One agent was cleared of all wrongdoing.
But the linking of DEA agents to prostitutes in foreign countries didn't end there.
Partying with prostitutes in Thailand
"The Acting Assistant Regional Director who supervised the two special agents in [Colombia] was also alleged to have solicited prostitutes" in Thailand, the report states. "In that case, the AARD allegedly engaged in sexual relations with prostitutes at a farewell party in the AARD's honor. There were also allegations operational funds were used to pay for the party and the prostitutes who participated."
In Thailand, DEA agents patronized prostitutes "on a regular basis," held several loud parties with prostitutes that occurred at an agent's government-leased quarters, and frequented a brothel. One of the agents was accused of assaulting a prostitute following a payment dispute. The DEA management in the country did not report the accusations up their chain of command or to OPR, "treating these allegations as local management issues," the report found.
READ MORE: DEA covertly paid hundreds of thousands for open information on train passengers
Rep. Jason Chaffetz (R-Utah) told Politico that there would be major action coming from the House Committee on Government Oversight & Reform, which he chairs, when the House returns from a two-week recess in April.
"You can't ignore this. This is terribly embarrassing and fundamentally not right," Chaffetz said. "We need to understand what's happening with the culture...anytime you bring a foreign national into your room, you're asking for trouble."
The House Judiciary Committee may also look into the discoveries outlined in the OIG report.
"Once again, some federal law enforcement agents are acting like they belong in a college frat house rather than at a taxpayer-funded law enforcement agency tasked with interdicting illegal drugs," House Judiciary Committee Chairman Bob Goodlatte (R-Va.) said in a statement. "It's extremely troubling that federal drug agents lacked the common sense to know that engaging with prostitutes hired by drug cartels was a bad idea."
"We must ensure that everyone involved is appropriately held accountable for their actions," he added.
READ MORE:Party over: US Secret Service agents sent home over drunken Netherlands incident
The Justice Department said in its formal response that the agency "will develop policy guidance that communicates the Department's expectations regarding the solicitation of prostitutes in foreign jurisdictions even when the conduct is legal or tolerated, and ensure that [it includes] language prohibiting this conduct."
The accusations against the DEA were part of a broader investigation into how the Justice Department's law enforcement agencies handle sexual harassment and misconduct allegations. The probe also found issues with the FBI, US Marshals Service, and Bureau of Alcohol, Tobacco, Firearms and Explosives.
You can share this story on social media: