'Out of control': DEA chief grilled over agents' sex parties dating back to 2001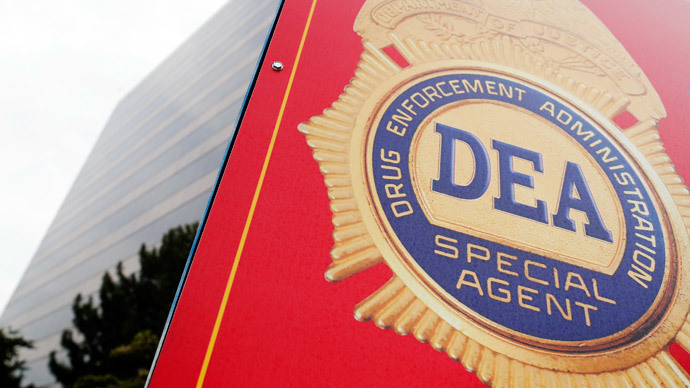 The Drug Enforcement Agency chief is taking fire from Congress over internal reports stating that agents have engaged in sex parties on the government's dime since 2001. One lawmaker also called for the chief to resign.
Documents released Tuesday by the House Committee on Oversight and Government Reform show reports of misconduct dating back to 2001. One report indicates that prostitutes at a 2003 retirement party for a high-ranking DEA official were paid out of the operational budget for the DEA field office in Colombia. One witness told the government inspectors that he contracted prostitutes for at least 15 DEA sex parties.
Report: DEA agents attended sex parties with prostitutes while stationed overseas as far back as 2001 http://t.co/B2p3RJnf4J

— WTOP (@WTOP) April 14, 2015
The reports portray DEA agents as "completely out of control" and behaving with "truly breathtaking recklessness," Rep. Elijah Cummings (D-Md.) said at the Tuesday hearing. "They appear to have fraternized with cartel members, accepted lavish gifts, and paid for prostitutes with no concern for the negative repercussions or security vulnerabilities they created."
"This new internal report describes not one or two isolated incidents, but literally dozens of parties with prostitutes at which DEA agents used government funds and government offices," Cummings said.
READ MORE: Hookers & blow: Colombian drug cartels funded DEA sex parties with prostitutes
Committee chairman Jason Chaffetz (R-Utah) protested the lack of accountability in the DEA, bringing up the fact that no agent was punished with anything harsher than a 10-day suspension. "Most of the agents involved were suspended for a few days and allowed to return to work with their secret clearances fully intact," he said.
Lawmakers grilled DEA Administrator Michele Leonhart, who took over the agency in 2010, for failure to rein in the "out of control" agents, and for obstructing the investigations by the Department of Justice's Inspector-General (IG) by withholding information and encouraging employees not to cooperate.
"Hiding information from the IG is simply and totally unacceptable," said Chaffetz.
"I take great offense to that," Leonhart said to accusations that she was protecting the agents. "I'm offended by their conduct; I'm offended by their behavior; I'm trying to fix the system." She also said she was "disgusted" by the behavior described in the reports and was "disappointed" the punishments were not more severe. However, she said, civil service laws prevented the agency from being more forceful.
"You get called before this committee and you say, 'Oh, it's terrible, it's awful.' But you, you personally, have been responsible for this for more than a decade and you didn't do anything about it," said Chaffetz. "It took you two years to get out a memo."
DEA chief Leonhart should be fired. One agency scandal after another. Indefensible! http://t.co/KctAqAQUKl

— Ethan Nadelmann (@ethannadelmann) April 14, 2015
In a statement to the Associated Press following the hearing, Chaffetz said Leonhart should either resign or be removed from her post by President Obama.
"It's time for her to go," Chaffetz said. "I don't have confidence in her, nor does the majority of the committee."
Following the March report revealing that agents had engaged in drug-and-sex parties sometimes even funded by the drug cartels, the Department of Justice issued a memo banning all personnel from "soliciting, procuring, or accepting commercial sex," whether on or off duty and "regardless of whether the activity is legal or tolerated in a particular jurisdiction, foreign or domestic."
According to Leonhart, the DEA has the "largest international footprint" of any US federal law enforcement agency, with 833 personnel permanently assigned to 86 foreign offices in 67 countries, including 459 Special Agents as of 2014.
You can share this story on social media: