Meaningful reform or cop-bashing? Lawmakers hold hearings on police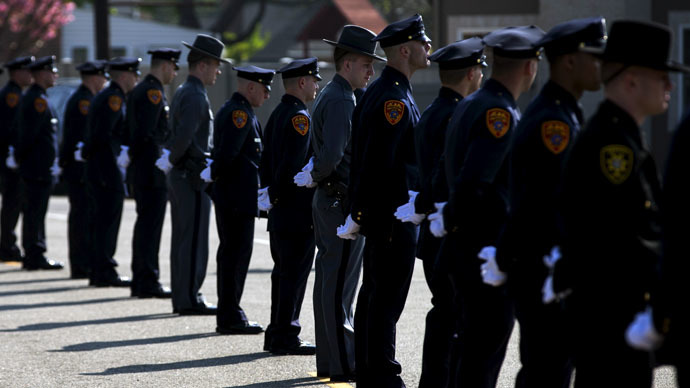 Heated debate and partisan politics marked the House and Senate committee discussions on how to reform US law enforcement after a White House task force recommended a number of changes following the events in Ferguson, New York and Baltimore.
The Senate Judiciary Subcommittee on Crime and Terrorism focused on the issue of body cameras, debating whether to make them mandatory and whether to provide federal funding for their use. Senators and their witnesses also debated the technicalities of body camera use, the cost of video storage, privacy issues regarding requests for public information, and the role of government in imposing policing standards.
Having the federal government support the purchase of body cameras should not be considered federalizing local policing, Senator Tim Scott (R- South Carolina) said. "Rather, it is an attempt to keep law enforcement officers and our communities safer."
"Everyone — including the officer and the person interacting with the officer — tends to behave better when they know they are being filmed," testified Jarrod Bruder of the South Carolina Sheriffs' Association.
Over at the House Judiciary Committee hearing, the discussion was on the more general issue of policing strategy and the recommendations made by President Barack Obama's task force. Committee chairman Robert Goodlatte (R-Virginia) spoke about the need to find a better way for police to interact with citizens, "both in everyday situations, and when more difficult circumstances arise."
"I want to assure all of you that the purpose of this hearing – and the ongoing efforts following this hearing – is to make sure we're doing everything possible to address the problems that have arisen in recent months to make sure communities are safer, police officers are safer and our citizens' rights are protected," Goodlatte said at the hearing. "We will not rest until we make progress."
READ MORE: Conflict of interest? Cops' financial connection to camera company raises eyebrows
One of the task force members, Susan Lee Rahr, said she would love to see Congress provide funding for improved police training and that several existing training programs could "literally transform the profession of policing in this country." One of the programs Rahr mentioned by name was Blue Courage, which has already been embraced by the New York City Police Department.
Another topic of discussion was the fact that many officers do not live in the communities they patrol, but are literally outsiders called in to enforce the law.
"Bashing the police is the low-hanging fruit," countered Milwaukee County Sheriff David Clarke Jr. Citing his 27 years of experience in law enforcement, Clarke said that police use of force ought to be scrutinized, but locally, not by the media or "elected officials who can't resist the opportunity to exploit the emotions of an uninformed or misinformed public simply for political gain."
Police behavior should be examined in terms of "factual data and circumstances that led to the police action, and not from an emotional foundation of false narratives or catchy slogans," Clarke argued, adding that "the conversation should be about transforming black underclass subculture behavior."
"The discussion must start with addressing the behavior of people who have no respect for authority, who fight with and try to disarm the police, who flee the police, and who engage in other flawed lifestyle choices," said Clarke, who is African-American. "Black-on-black crime is the elephant in the room that few want to talk about."
READ MORE: No tanks! US police to lose some military equipment, but not all
A number of African-American lawmakers took offense at Clarke's comments, including Karen Bass (D-California), Hakeem Jeffries (D-New York) and Cedric Richmond (D-Louisiana).
The need for more community-oriented policing was one of the recommendations made by President Obama's Task Force on 21st Century Policing, which was published on Monday. A separate report on equipment used by law enforcement, released Monday as well, said the police should not be allowed access to weapons and uniforms whose "appearance may undermine community trust when used in support of civilian law enforcement activities."
The White House announced it would follow the Task Force's recommendations and "prohibit some equipment made for the battlefield that is not appropriate for local police departments." At the same time, it said it will "ensure that departments have what they need, but also that they have the training to use it."
You can share this story on social media: