NY police trained to use new technique to subdue suspects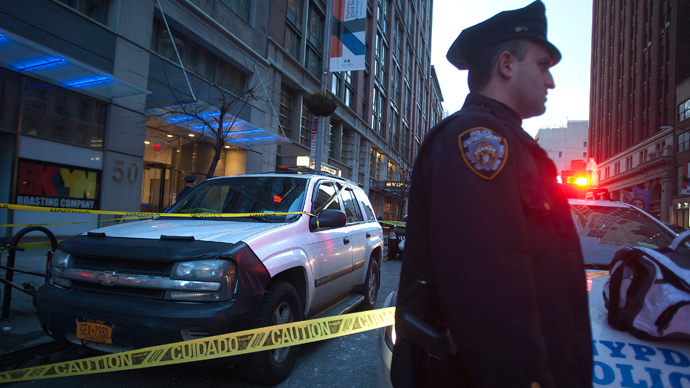 Thousands of New York City police officers have been undergoing re-training at the city's police academy, learning how to communicate better with the public and new, safer techniques of subduing suspects.
Officers are now being taught a martial arts technique known as the "armbar hammerlock" (video), reported New York local portal DNAInfo. New York's police academy previously taught a "headlock" move, a choke-hold used by Officer Daniel Pantaleo during the controversial arrest attempt in July 2014 that resulted in the death of Eric Garner of Staten Island.
"We have to be more human," NYPD's new Deputy Commissioner of Training, Michael Julian, told reporters in December, following the protests over the grand jury decision not to indict Officer Pantaleo in Garner's death.
READ MORE: Dozens arrested as NYC protests Eric Garner decision
While it is still possible to break someone's arm using the hammerlock, the NYPD hopes that additional training may remove the need for grappling with suspects in the first place.
Before studying the new moves, officers have been spending two days re-learning teamwork, self-control and better communication with suspects and the public.
"Day one and Day two are designed to avoid needing Day three," one police source told DNAInfo.
NYPD teaching officers new, MMA-style takedown methods following Eric Garner chokehold death: http://t.co/huQ5bOdizM

— DNAinfo.com New York (@DNAinfo) March 2, 2015
One part of the seminar is the nationally recognized program called "Blue Courage," designed to remind officers about the values of policing, justice and fairness. The locally developed communication course, taught on the second day, involves lectures by specialists such as Hostage Negotiation Unit leader, Lt. Jack Cambria.
The program is part of the reforms introduced by Julian, who worked with the current Commissioner Bill Bratton in the 1990s, and agreed to rejoin the force last fall. For all the tactics, equipment and restraint techniques, Julian said, the police were never taught to communicate, control their tempers, or even "to take a breath to find ways to deal with non-threatening encounters without resorting to force and escalating situations."
According to Julian, NYPD officers were not taught how to "work as a team in taking a resisting suspect into custody." One officer interviewed by DNAInfo described the current NYPD approach as "more or less, just pile on."
All NYPD officers should be re-trained by June this year.
You can share this story on social media: