Mothers of dead police brutality victims march in DC (PHOTOS)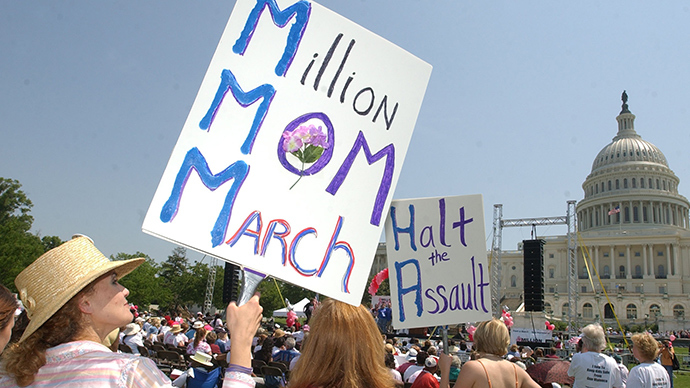 ​Mothers from across the United States poured into Washington, DC on Saturday, choosing Mother's Day weekend to march for justice for the loved ones they have lost to violent encounters with law enforcement.
Dubbed the "Million Moms March," the event featured hundreds of people marching to the US Department of Justice and calling for police reform around the country.
.@OccupyWallStNYC Our #BlackLivesMatter signs marching @mommas4justice#MillionMomsMarch in DC a/g police violence pic.twitter.com/kipoMjVC4H

— OverpassLightBrigade (@OLBLightBrigade) May 9, 2015
The march was organized by Mothers for Justice United, which describes itself as "an organization of mothers whose children have been killed by police officers and white vigilantes." Citing the deaths of unarmed black men such as Michael Brown of Ferguson, Missouri and Eric Garner of Staten Island, New York, the group said it is aiming to stop the "epidemic of the killing of unarmed people of color by police."
#MillionMomsMarch mothers deliver demands to US Dept of Justice for hundreds slain by #PoliceBrutalitypic.twitter.com/75Sx4K1xPN

— Revolution News (@NewsRevo) May 9, 2015
"We, the mothers of this movement, are calling on all concerned community members to join us in our fight," the group wrote on the Million Moms March Facebook page."Together we unite to stand against police brutality and racial injustice and to demonstrate our love and determination to protect our children and our country."
As the crowd marched from the Capitol Hill to the Justice Department, protesters shouted: "No justice. No compromise," and "Black lives matter."
#MillionMomsMarch#BlackLivesMatter March Advancing up Pennsylvania ave "No Compromise!" #BlackSpringpic.twitter.com/VReBeyHE8d

— Harris from the Post (@rousseau_ist) May 9, 2015
Mothers and others participating held up photographs of people killed by police. The crowd was carrying an abundance of signs and yellow balloons with peace symbols on them, as well as many flowers bouquets.
One of the placards read: "From Baltimore to Palestine, Ferguson to Ayotzinapa. A mother's work is never finished. Stand up! Fight back!"
From #baltimoreuprising to Palestine, #Ferguson to #ayotzinapa#millionmomsmarchpic.twitter.com/MwfnevPg1i

— Chuck_MODI (@POPSspotSports) May 9, 2015
Mothers for Justice United was created after Milwaukee's Maria Hamilton lost her 31-year-old son, Dontre, during a confrontation with police. A little more than a year ago, police officer Christopher Manney confronted Dontre, who was reportedly mentally ill, at a local park with a pat-down. When Dontre resisted, he was hit with a baton and shot 14 times.
"This is a call for everybody to wake up," Hamilton told USA Today as the march began. "We are here on behalf of our babies to tell the United States government that we aren't going anywhere. We aren't going to continue to keep burying our babies. Do something and do it now."
At Pennsylvania and 7th St NW, headed to Dept of Justice #MillionMomsMarch@mommas4justice@Justice4Dontrepic.twitter.com/BqpBPSr7Cs

— Erika Wolf (@noJUSTICIAnoPAZ) May 9, 2015
Police eventually determined the pat-down was unnecessary, violated Manney's training and escalated the situation. Manney was fired but never charged with a crime.
"I believe Dontre planted, his physical life planted a seed for this movement. I know that his death will never be in vain. I had to let him go in order to have this work done," Maria Hamilton told Wisconsin-based Fox 6 News about Saturday's march in DC. "May 9th will be the march for unity for all the moms across the US that have lost their loved ones."
In an interview with ABC 12, Hamilton added that she is using this moment – one during which much of the country is focused on tense police-community relationships – to create momentum for change.
"My mission is to make people aware that this is a bigger problem than anybody actually thought," she said. "Now that the doors have come open, we want the doors to stay open until things start to get fixed."
#MillionMomsMarch at the #DOJpic.twitter.com/NFiRZrlMsm

— Harris from the Post (@rousseau_ist) May 9, 2015
Of course, the march isn't limited to mothers. On Facebook, people from around the US declared their intention to march in DC. One woman from Utah said she would be there because an officer shot and killed her husband because he didn't identify himself while he was shoveling snow.
"We want the federal government to change the laws across the board," Hamilton told Fox 6. "We need to have them set the laws up where the police chief and different areas of police officers across the US have the same rules and regulations when protecting us."