Ebola discovered in patient's eye months after being cleared
Published time: 8 May, 2015 04:06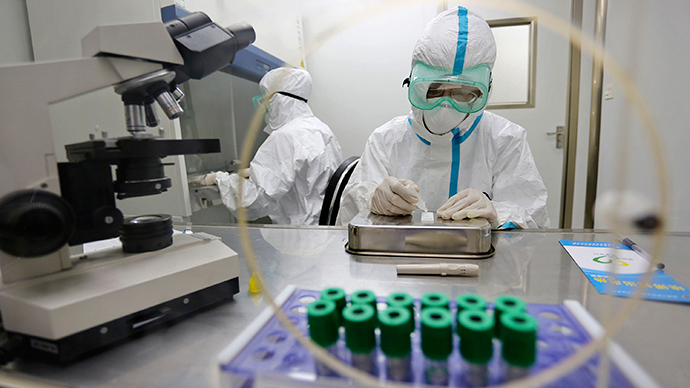 An American doctor who returned to the US infected with Ebola found that, despite being declared free of the disease, he was still carrying the virus in his eye months later.
Dr. Ian Crozier, 44, was diagnosed with Ebola in September 2014 while volunteering for the World Health Organization in Sierra Leone. He was flown to the US, treated and cleared of the virus at Emory University Hospital in Atlanta, Georgia. While there, he received intensive treatment, was placed on a ventilator for 12 days and underwent dialysis for kidney failure for nearly a month. He was declared cleared of the virus in October.
Months later, however, he developed an inflammation and very high blood pressure in one eye, causing swelling and potentially serious eye problems. He also experienced debilitating joint and muscle pain, deep fatigue and hearing loss. Similar problems are being reported in West Africa.
Doctors Just Discovered the Ebola Virus Can Live Inside the Eye http://t.co/8iBpiMOcWn My latest for @Gizmodo.

— K. Smith-Strickland (@RescueFins) May 7, 2015
Crozier returned to Emory, where some fluid was drained from his eye and tested for Ebola. Tests confirmed his eye contained Ebola, but tears and tissue around the outside of the eye were free of the virus.
"It felt almost personal that the virus could be in my eyes without me knowing it," Dr. Crozier told the New York Times upon discovering he was still infected.
READ MORE: Love in the time of Ebola: CDC urges condom use after a case of sexual transmission
Over the next five days, Crozier's eye inflammation continued and he experienced some vision loss. Three days later, the inflammation improved, but he still had severe vision impairment in his left eye. Three months after his first diagnosis with eye inflammation, his condition had improved and he had recovered his vision, the researchers said.
While still not fully recovered, he continues to improve despite nearly losing his vision.
Officials knew the virus could persist in semen for months, but other body fluids were thought to be clear of it once a patient recovered.
A report about Dr. Crozier's eye condition was published in the New England Journal of Medicine on Thursday and doctors discussed the case at an Association of Research in Vision and Ophthalmology conference in Denver.
"This case highlights an important complication of [Ebola virus disease], with major implications for both individual and public health that are immediately relevant to the ongoing West African outbreak," the researchers wrote in the report.
READ MORE: 'Slow and insufficient': WHO admits to failing to respond to Ebola crisis
Future studies are needed to assess how Ebola is able to persist in certain places in the body, the researchers noted.
The World Health Organization said on Thursday that last week the number of Ebola cases reported in Guinea and Sierra Leone dropped to their lowest total this year. Liberia, which has had the most deaths in the outbreak – more than 4,700 – plans to declare the outbreak over on Sunday unless new cases are discovered.