Love in the time of Ebola: CDC urges condom use after a case of sexual transmission
Published time: 1 May, 2015 18:27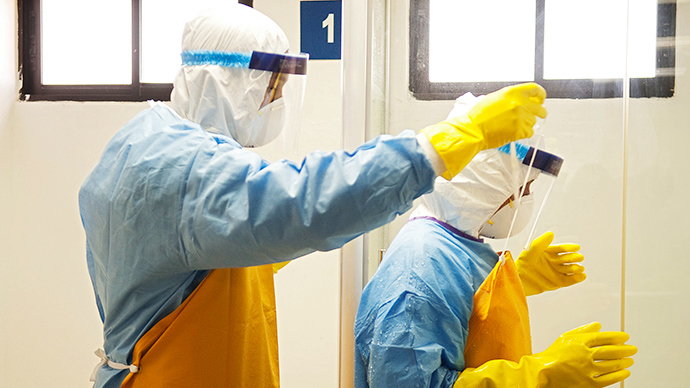 Ebola survivors must use condoms to prevent spread of the disease, health officials have said, after a Liberian woman was infected through unprotected sex with a survivor. It appears the virus can survive in semen for far longer than previously thought.
In a report released Friday, Centers for Disease Control and Prevention (CDC) said "contact with semen from male survivors should be avoided" at all cost until researchers can figure out how long Ebola can survive in semen.
"Based on information gathered in this investigation, CDC now recommends that contact with semen from male Ebola survivors be avoided until more information regarding the duration and infectiousness of viral shedding in body fluids is known," the report urged.
"If male survivors have sex (oral, vaginal, or anal), a condom should be used correctly and consistently every time."
Sex & Ebola: now appears virus can linger in semen >4 months. Unfortunate case = hard ?s for public health message. http://t.co/b3HJykAJYv

— Caleb Hellerman (@calebhell) May 1, 2015
A woman in Liberia's capital Monrovia, age 44, developed symptoms confirmed to be due to an Ebola infection in mid-March, a full month after the last confirmed patient in Liberia was successfully isolated, the CDC reported.
The case had the doctors stumped because the woman had not traveled or interacted with visitors from other Ebola-affected countries such as Sierra Leone or Guinea. Nor had she attended any funerals for Ebola victims, or come into contact with anyone in Liberia with symptoms consistent with Ebola.
READ MORE: Worst Ebola epidemic in history
She did, however, "report unprotected vaginal intercourse" with a 46-year old man from another community in Monrovia, who survived the infection last year. CDC said the man had been discharged from the hospital on October 7, 2014, and "reported no subsequent illness or symptoms."
Previous research has documented the presence of Ebola virus in the semen as long as 82 days, and viral RNA for up to 101 days, after symptom onset. In this particular case, the woman appears to have been infected through sexual contact with the survivor almost 200 days after his likely Ebola onset.
"The investigation identified only one epidemiologic link to Ebola: unprotected vaginal intercourse with a survivor," the report said.
CDC said that research is underway to see how long the virus can remain viable in body fluids of survivors, and establish the likelihood of sexual transmission. Until more is known, they urge condom use, followed by safe disposal and disinfection, every time.