West Virginia would 'welcome' massive special forces exercise - Senator
Published time: 7 May, 2015 00:53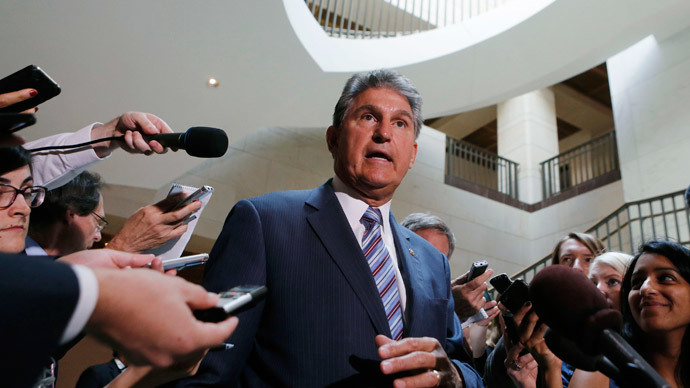 A Senator from West Virginia said his state would "welcome with open arms" a massive US military drill that has southwestern states alarmed about government intentions. Texas in particular is wary of the exercise, called Jade Helm 15.
Speaking to Mika Brzezinski on MSNBC's "Morning Joe" show on Wednesday, Senator Joe Manchin (D-W.Va) said his constituents would be happy to host the military.
"I don't know what's going on in Texas," Manchin said. "I don't know the paranoia that goes on in Texas, but the people in West Virginia welcome, welcome the special forces exercises. Please come to West Virginia. We'll welcome you with open arms. We're not afraid of you. We embrace you. We want you to be part of us."
Friend of the show Senator Joe Manchin stops by to discuss Special Forces exercises in West Virginia VIDEO: http://t.co/KMMSUNvViN

— Joe Scarborough (@JoeNBC) May 6, 2015
A frequent guest on the show, Manchin said he would have to ask his friend Rick Perry, former Texas governor, for "the scoop" on the exercise. Perry has criticized current Texas Governor Greg Abbott, a fellow Republican, for ordering state troopers to "monitor" the forces involved in Jade Helm.
"It's OK to question your government. I do it on a regular basis. But the military is something else," Perry was quoted as saying by the Dallas Morning News. "Our military is quite trustworthy. The civilian leadership, you can always question that, but not the men and women in uniform."
READ MORE: 'Martial law exercise?' Texas jittery over US military drills
Mac Thornberry (R-Texas), chairman of the House Armed Services Committee, also dismissed fears of Jade Helm's potential for abuse.
"These are incredibly capable, patriotic Americans and the notion that they're going to be some sort of private army for the president to take away all our guns is just silly," Thornberry told the Dallas Morning News.
Texans and Americans are not calling into question the military, actor and conservative columnist Chuck Norris wrote earlier this week. "What's under question are those who are pulling the strings at the top of Jade Helm 15 back in Washington."
Back in March, Army Special Operation Command spokesman Mark Lastoria attempted to allay concerns by saying that "Jade Helm does not have anything to do with martial law."
"Its sole purpose is to train US Special Operations Forces in their core skill sets for future use overseas. Inaccurate and untrue information is being circulated about training exercise Jade Helm either accidently or to promote personal agendas," Lastoria said.
Are We Being Psychologically Conditioned To Accept Martial Law In America? http://t.co/zA8bMGLT3K

— Jade Helm 15 (@Jade_Helm) May 6, 2015
Due to begin July 15 and last for eight weeks, the exercise involves elite teams from four branches of the military, including SEALs and Green Berets. Up to 1,200 special operations personnel are set to be involved in what has been described as "realistic military training" in towns across Arizona, California, Colorado, New Mexico, Nevada, Texas and Utah.
Military maps designating portions of those states as "hostile" and "permissive," including an "insurgent pocket" in southern California, have alarmed residents across the seven states.