'Martial law exercise?' Texas jittery over US military drills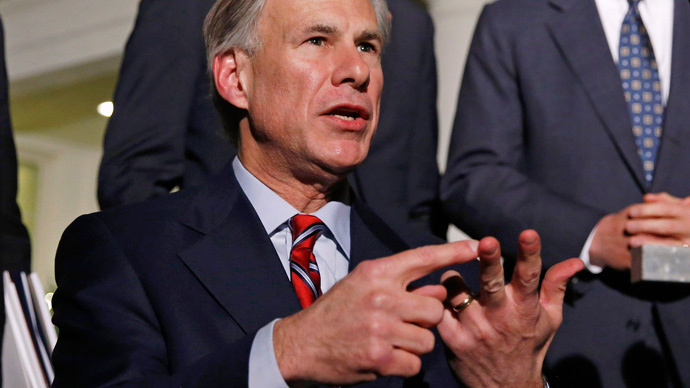 Texas Governor Greg Abbott told state troopers to monitor a US military training exercise, codenamed Jade Helm 15, after locals showed concern that the looming maneuvers actually look more like an "exercise in the imposition of martial law."
The large-scale operation involves elite teams from four branches of the military, including the SEALs and Green Berets, and is set to kick off in seven states from July 15 to September 15. Up to 1,200 special operations personnel will be involved. The troops will be participating in what has been called Realistic Military Training in towns in Arizona, California, Colorado, New Mexico, Nevada, Texas and Utah. For the purposes of the training, Texas, Utah and part of southern California have been labeled as "hostile" territory, a description that a number of residents found troublesome.
US moving, bit by bit closer to #MartialLaw. #JadeHelm looking like a game plan and not training. When will we see big guns out being fired

— It's all Good Man (@cambiecams) 29 апреля 2015
Back in March, Army Special Operation Command spokesman Mark Lastoria attempted to allay concerns by saying the training is an opportunity to practice "covert warfare tactics and martial law."
In his recent speech, Lastoria downplayed concerns saying that "Jade Helm does not have anything to do with martial law."
"Its sole purpose is to train US Special Operations Forces in their core skill sets for future use overseas. Inaccurate and untrue information is being circulated about training exercise Jade Helm either accidently or to promote personal agendas," he said.
According to military officials, armed forces will train in areas chosen because of similarities to overseas combat areas. Republican Governor Abbott says Texas has been assured that no residents or their property are at risk.
READ MORE: March to martial law? Undercover Special Forces to sweep US Southwest
According to officials, troops will be operating undercover among civilians, improving their skills to blend in with the crowd. Soldiers will also have to stage an escape from 'hostile' territory during the training.
Jade Helm 15 looks more like an exercise in the imposition of martial law. Texas should withdraw "invitation". We NEED Texas Independence.

— James W Rollins (@jwr4570) 28 апреля 2015
Earlier this week, Lastoria answered questions from a crowd of 150 people at a special meeting of the Bastrop County Commissioners Court. According to a report in the Austin American-Statesman, Lastoria was asked whether Jade Helm 15 will involve bringing foreign fighters from the Islamic State to Texas, whether US troops will confiscate Texans' guns and whether the Army intends to implement martial law through the exercise. The colonel repeated that Jade Helm 15 is nothing more than a routine exercise.
Multiple low flying military choppers seen over #Houston#Texas April 23/2015 #JadeHelm15#MartialLaw#WakeUpAmericapic.twitter.com/exIVOr2tTF

— Jade Helm 15 (@Jade_Helm) 23 апреля 2015
"The terrain is very challenging and it's going to make our soldiers sweat — and sweating in peacetime is what we want because it's going to reduce the bleeding in wartime," Lastoria said, according to the Austin American-Statesman.
I've ordered the Texas State Guard to monitor Jade Helm 15 to safeguard Texans' constitutional rights, private property & civil liberties

— Greg Abbott (@GregAbbott_TX) 28 апреля 2015
Bob Wells from Bastrop wrapped up after the meeting, saying: "It's the same thing that happened in Nazi Germany: You get the people used to the troops on the street, the appearance of uniformed troops and the militarization of the police...They're gathering intelligence. That's what they're doing. And they're moving logistics in place for martial law. That's my feeling."
"I hope I'm a 'conspiracy theorist'," he added.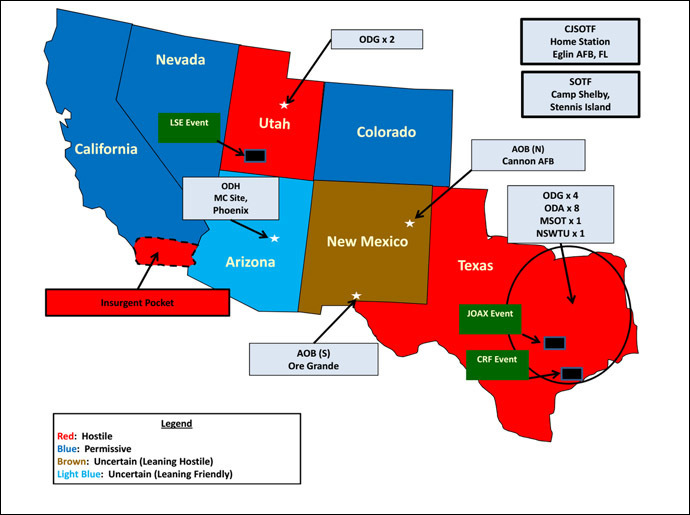 You can share this story on social media: