Not quite 'Armageddon', but close: NASA to launch asteroid capture mission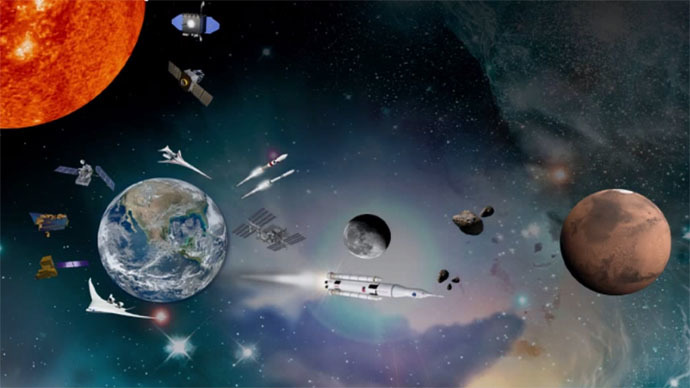 Hollywood-style planetary defense may be one step closer to reality as NASA announced it was going ahead with a plan to capture and redirect an asteroid into the Earth's orbit. Real orbital defense is still decades away, though.
Speaking at the Humans to Mars conference taking place this week in Washington, DC, NASA chief Charles Bolden confirmed the agency would launch the asteroid capture mission within the next decade.
"We now have decided we're going to invest in the technologies," Bolden said.
NASA plan could lead to 'Armageddon'-style... - The Hill http://t.co/3o68CdIdlo#nasa#nasanews

— NASA News (@NASANewsTeam) May 5, 2015
Bolden was careful to downplay the immediate effects of the mission, which immediately conjured images of "Armageddon" and "Deep Impact," the 1998 Hollywood disaster blockbusters featuring humanity threatened by asteroids and comets.
"We are not going to save the planet, please understand me," he cautioned. "But we are going to inform those who follow us, after we demonstrate through the asteroid redirect mission that you can, in fact, do something that many people did not think was possible, and you can in fact move something that is God-made and headed around the sun, and you can deflect that ever so slightly."
The plan, involves lassoing a streaking asteroid, then dragging it into the lunar orbit, where it can be explored by astronauts.
"If we can do that and we get it into stable lunar orbit, we will have done something that is dramatically informative to humanity and may lead to the development of sustainable technologies that will then be able to save the planet," Bolden said.
Though far more modest in scope than the blockbuster apocalypse movies envisioned, Bolden hopes the effort could inspire private companies and other countries to start exploring the asteroids, leading someone to eventually develop the capability to stop a celestial object from impacting Earth.
READ MORE: Go-go-go! Rosetta's Philae lander descent to comet surface
The mission proposal was drawn up in 2013, after a 300-meter asteroid named Apophis buzzed the Earth at a distance of 14 million km.
A month later, a much smaller stray asteroid exploded miles above the Russian city of Chelyabinsk. The shockwave from the 500-kiloton explosion shattered windows and damaged buildings, injuring 1500 people with glass fragments and debris. Fortunately, no one was killed.
Grilled by a House committee at the time, Bolden admitted that NASA had no way of dealing with asteroids or comets threatening the planet.
"If it's coming in three weeks, pray," he told the lawmakers, asking for $105 million to fund the asteroid mission.
Since then, the European Space Agency (ESA) successfully landed a probe on the 67P/Churyumov–Gerasimenko comet. It is not known whether NASA intends to use any of the technologies developed for that mission.
You can share this story on social media: