S. Carolina police should get prison for repeatedly tasing disabled woman - prosecutors
Published time: 27 Apr, 2015 19:31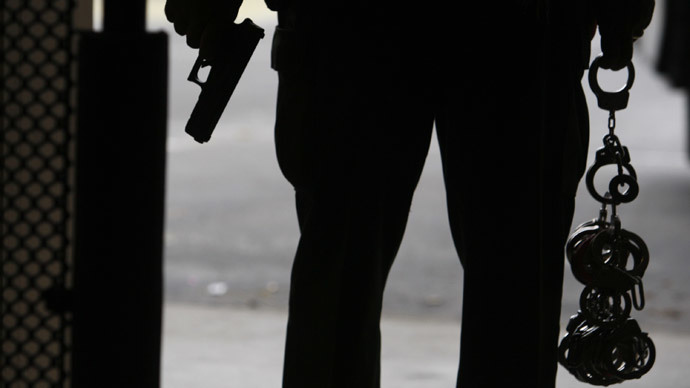 Two former South Carolina police officers should get at least a year in prison for using a Taser eight times on a mentally disabled woman who posed no threat to the officers, federal prosecutors say.
Former Marion, South Carolina police officers Eric Walters and Franklin Brown pleaded guilty to using excessive force in October. They will be sentenced on federal charges on Monday.
According to information presented in court, Walters was on patrol in April 2013 when he saw Melissa Davis, 40, walking through the yard of a home for sale. He questioned her as to what she was doing at the home. In the process of detaining her, Walters shocked her with his Taser once, causing Davis to injure her head. Once she was on the ground, Walters ordered her to put her hands behind her head. Before she could respond, he shocked her four more times.
Brown responded to the scene and proceeded to shock Davis again, even though she was handcuffed and surrounded by law enforcement. Brown had noticed one of Davis' hands had slipped out of the improperly applied handcuffs, according to AP. Davis was not attempting to resist or escape custody.
READ MORE: 'He shot me!' Video shows Oklahoma officer killing a man, mistaking gun for Taser
Brown then shocked her twice more before offering to release her if he could tase her in the forehead, prosecutors said.
Brown told other officers at the scene that he shot Davis with the Taser because he "did not want to touch that nasty *****," according to his plea agreement.
Walters and Brown are both white. Davis' race was not indicated in court records.
READ MORE: 'Lock them up in a cell': Family of slain Louisiana man arrested for 'sagging pants' angry at police
Prosecutors said that, besides the fact that Davis posed no clear threat to them, the officers should have known her mental health status, as she was well known around Marion, according to a lawsuit filed by her caretaker against the officers.
READ MORE: Virginia police attempt, fail to delete video of assault on teenager (VIDEO)
The federal prosecutors in the case said they agreed to federal sentencing guidelines that call for 12 to 18 months of prison for Walters and 18 to 24 months for Brown. The latter sentence recommendation was higher based on Davis' vulnerable position when Brown shocked her.
Walters has asked for a six-month sentence and six months of home detention based on his poor health. He suffered several heart attacks before the age of 39, his defense said in their motion, adding that he had a good conduct record before the incident. Brown's defense did not file a motion asking for a lighter sentence.
The civil suit filed on behalf of Davis calls for at least $2 million compensation for mental and physical anguish caused by the incident.