Ex-cop who paralyzed Indian grandfather pleads not guilty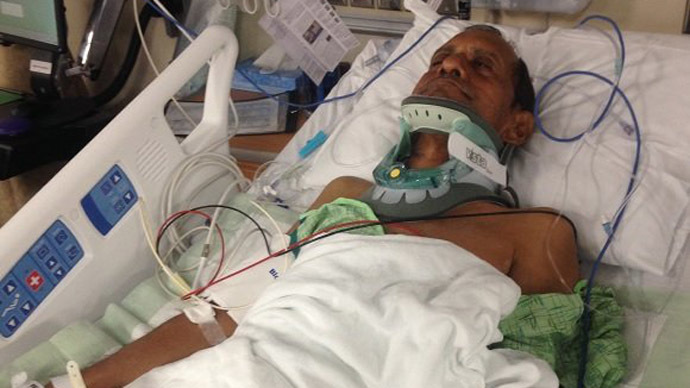 Former police officer Eric Sloan Parker pleaded not guilty to a federal charge of violating the civil rights of an Indian grandfather, left partially paralyzed after officers slammed him to the ground during a February arrest.
Appearing before the federal magistrate in Huntsville, Alabama, Parker entered a plea of "not guilty" to the charge of felony civil rights abuse, brought against him by the FBI last month. If convicted, he could face 10 years in prison. The 26-year-old former police officer from Madison, Alabama also faces a misdemeanor assault charge in Limestone County, which could put him in jail for up to a year.
Parker is currently free on a $5000 bond, and will face trial on June 1. A civil case against him by the family of the injured man has been put on hold until the criminal proceedings are resolved.
#Alabama police officer who slammed Indian grandfather to ground enters not guilty plea in federal court http://t.co/dJEPX79ORH#EricParker

— anne hillebrand (@annehillebrand2) April 21, 2015
Madison police released recordings of a call reporting a "skinny black guy" with a knit cap walking around an affluent neighborhood and peering into garages, on February 6 in the morning. Parker and two other officers approached the man, later identified as Sureshbhai Patel, 57.
READ MORE: Alabama cop accused of paralyzing Indian man during pat-down
An Indian national who came to Alabama to help his son and daughter-in-law with their firstborn, Patel only spoke Gujarati, and tried to tell the officers he was minding his own business.
"No English. Indian. Walking," he said, according to his son Chirag's statement to the local media at the time. Dashboard camera footage released by the police shows Parker slamming Patel on the ground.
Suffering a neck injury from the impact, Patel was unable to move on his own and was taken to the hospital. Doctors said that without the emergency surgery he would have been permanently paralyzed, Chirag Patel later told AL.com.
Sureshbhai Patel had no health insurance, but a GoFundMe.com campaign established to pay for his medical expenses has raised nearly $210,000. His recovery has been slow and painful, the family says.
READ MORE: Man critically injured by Baltimore police has died in hospital
Patel's injuries prompted a strong protest from the Indian government, prompting Alabama governor Robert Bentley to apologize for the "unfortunate use of excessive force."
"We are extremely disturbed," spokesman for India's foreign ministry Syed Akbaruddin said at a briefing in February. "This is a matter of concern for us; and India and the US ‒ as open, pluralist societies ‒ need to address these issues and find ways in a mature manner so that these are aberrations, and are not the norm."
"It's a rare thing that a police officer is going to be held accountable for a criminal act," Hank Sherrod, attorney for the Patels, told AL.com. "If you can't indict them when you have a video then you probably can't ever indict them."
Madison is a town of about 46,000 people in northern Alabama, 10 miles west of Huntsville, and is known for high-tech, aerospace and defense industry. The TechAmerica foundation lists Huntsville/Madison County as the second-highest concentration of high-tech workers in the US, after California's Silicon Valley.
You can share this story on social media: