Man critically injured by Baltimore police has died in hospital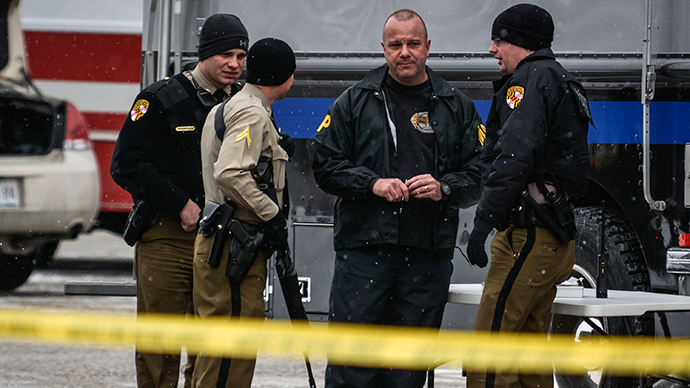 A man who was injured while being arrested in Baltimore last week has died, just hours after hundreds of people rallied outside Baltimore Police Station to protest against how seriously he was injured.
Freddie Gray's stepfather, Richard Shipley, confirmed his stepson had died. His statement was confirmed by a Shock Trauma [hospital] spokesman.
According to police, Gray was first stopped by officers at 8:39am on April 12. He then managed to run away but was caught one minute later and arrested. At 8:54am he was placed in the prisoner transport wagon and taken to the Western District police station. At 9:54am an ambulance was called to treat him.
Local broadcaster WJZ-TV said that footage of the arrest filmed on a cell phone showed that he was black, and that family members identified him as 27-year old Freddie Gray.
He suffered broken vertebra and an injured voice box and had to undergo emergency spinal surgery, after which he was in a coma from which he never recovered.
Police have said that a panel has been set up to review the case which will be sent to prosecutors but have not been forthcoming with any additional information.
The day before Freddie's death, hundreds of people gathered outside Baltimore Police Station where they raised their hands and turned their backs on officers. Barricades were set up round the station, which were quickly breached by protesters but who pulled back before the main rally began.
Some of them chanted "No justice, no peace, we don't need you on our streets."
More protests planned in West Baltimore following death of Freddie Gray http://t.co/CGwVf7xE1Y

— Baltimore Maryland (@BaltimoreMdRR) April 19, 2015
"What happened to Freddie was unnecessary and uncalled for. All of those police officers involved need to be held accountable and answer for what they did, and need to be terminated from their positions," the Rev. Jamal Harrison Bryant of the Empowerment Temple shouted to protesters.
READ MORE: Baltimore police shoot, taser a man in front of Trayvon Martin mural
"If this happens to him, it could happen to any of you," Freddie's step father told the crowd.
Crystal Cooley, one of Freddie's old friends said who witnessed the incident said: "They didn't have to do it to him. They already had him in handcuffs."
"They [the police] haven't said one word since it happened. Why?" said Chandra Jackson, 36.
>> More protests planned in West Baltimore following death of Freddie Gray. << http://t.co/EpqgebQQ4l#Black365#BlackLivesMatter@naacp

— Freelancer (@2Freelancer) April 19, 2015
As the protest was getting into full swing, there was another police shooting on block 2700 of Baker Street. Police Commissioner Jerry Rodriguez said that a car with three people inside it sped away after the driver refused to stop when police tried to pull it over.
One of the men then leaped from the car and was chased across a field. According to Rodriguez he then pulled out a handgun and was shot by the pursuing police multiple times. The man is in hospital in a stable condition, while no police officers were injured in the attack.
Rodriguez insisted that the officers were "great danger" and that the alleged criminals that didn't stop were "people with no regard for law enforcement."
You can share this story on social media: