​Uber-expensive: NYC passenger cops $16k bill for 6-mile taxi ride
Published time: 22 Apr, 2015 15:47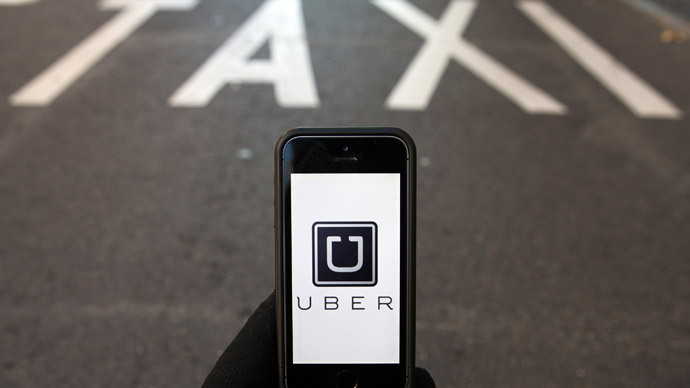 No one expects a bargain in the Big Apple, but one Brooklyn resident had the surprise of her life when Uber tried to charge her over $16,000 for a taxi ride covering less than 7 miles (11km).
Jaime Hessel was on her way to a fundraising pub crawl event in Midtown East when she took the 6.79 mile ride from her East Williamsburg apartment on March 28. It was snowing lightly, and Hessel was well aware that Uber's surge pricing – that is, higher tabs for peak demand times – was in effect.
Afraid that the train simply wouldn't get her to the event on time, she decided to take the taxi anyway. After all, how expensive could a 35-minute ride really be? The answer to that question would be revealed later.
Hessel's original receipt for the ride was $56.40 – an amount she contested because she said the driver unnecessarily extended the ride while ignoring directions, taking phone calls and checking his voicemail.
The Brooklyn resident called the journey the "car ride from hell," adding that the driver reversed into traffic, cut in and out of lanes, and even drove in the bus lane to make up for lost time after twice missing the same turn.
"I had him drop me off a block away from the bar because I didn't want to be in the car anymore. I felt very unsafe," Hessel told Gothamist.
READ MORE: German court imposes nationwide ban on Uber ride-sharing service
She sent a complaint email to Uber, and the company responded a few days later.
"They were really quick about it, and I was impressed," Hessel recalled. "They said, 'We reviewed it, and you're right. He definitely took extra time that was unnecessary, we're going to credit your account $15.'"
But as of Monday, Hessel still hadn't received her refund. She was calm and collected though, assuming this was due to the fact that she had yet to update her credit card on her Uber account; the previous one had expired.
Little did she know that the next invoice she would receive would make the initial tab seem insignificant. Upon opening her email, she was hit with an extortionate new bill.
"I received two emails yesterday. One about the status of my credit saying it should be there, it's been processed. And then a second email saying they are trying to charge me $16,000, but then $4,000 had already been taken care of, so I owed them $12,000. I couldn't even tell you what this was about, because I checked my credit cards and there was no charge. I emailed them numerous times and they kept giving me the runaround. I was furious. I mean, you can't give me an explanation?" she said.
READ MORE: Google to drive wedge into Uber's car ambitions?
The reason behind the outrageously high tab was unknown, along with the $4,000 that had allegedly"already been taken care of."
In a string of emails between Hessel and Uber, the taxi app failed to give a proper explanation for the mix-up, only stating that it "might be a glitch."
However, an Uber employee did eventually call Hessel.
"She tried to apologize and explain the situation...she said it was a matter of a misplaced decimal point." But Hessel said she wasn't convinced, telling the employee "I'm not stupid."
"They're talking about fat fingering a bunch of numbers, and these numbers have no correlation to my original charge. Plus, they charged me instead of crediting me. That's a lot of mistakes."
READ MORE: New York police officer's xenophobic rant on taxi driver caught on video (Graphic language)
But Hessel won the battle in the end – she doesn't owe anyone $12,000 and she even received a complete refund for the initial $56.40 charge.
"We apologize to this rider for any inconvenience and we have provided them with a full refund," an Uber spokesman said.
The dramatic incident has left Hessel unsure about whether her future will include the popular taxi app.
"I don't know if I'll use it again," she told DNAInfo. "Maybe I'll do it if it'll be somebody else's credit card."