German court imposes nationwide ban on Uber ride-sharing service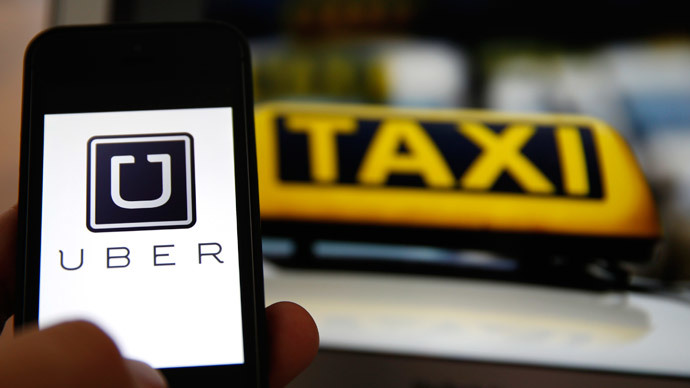 A German regional court imposed a nationwide ban on one of Uber's online taxi services, ruling the San-Francisco based company violates German and European laws. The court imposed a €250,000 ($264,825) fine for each new violation.
The Frankfurt regional court imposed the ban on using the California company's low-cost UberPop ridesharing service on Wednesday. This is the second time in less than a year Uber has been subjected to a ban in Germany.
"There is a violation of the passenger transport law because drivers operate without authorization," said the presiding judge Joachim Nickel in a court hearing ahead of the ruling.
The case was brought by German taxi operator group Taxi Deutschland and is among more than a dozen lawsuits filed in other European countries against Uber's service.
Taxi drivers say that the car-hailing apps (Uber's is the most popular) have threatened the jobs of many licensed European cabbies. UberPop provides passengers with drivers who don't have professional licenses, so prices paid by passengers are much lower than for traditional taxis.
READ MORE: Uber taxi app gets nationwide Spanish ban
Dieter Schlenker, chairman of the Taxi Deutschland cooperative, hailed the court's ruling saying that this would protect licensed drivers from unfair competition.
"We are pleased that justice has been reinstated today. Again, a court has determined that Uber bases its business model on a breach of the law," he said in a statement after the ruling.
"What does it mean for the 255,000 taxi drivers and employees in 700 radio taxi control centers? It means legal certainty. 255,000 real jobs and taxpayers will remain in Germany."
In Germany, taxi drivers are subject to strict regulations, while in other European countries a taxi driver license can cost up to €200,000 (US$270,000).
Uber issued a statement after the ruling saying the company regrets the court's decision and will file an appeal against it. "In our opinion, however, the ban pronounced by the Court represents a fundamental infringement, in particular of our right under European law to establish and provide a service; this is why we have lodged a complaint against Germany with the European Commission. In this regard, we also expect to file an appeal against today's decision," the company's statement read.
"We will not give up on the German market: our UberBLACK and UberTAXI services remain unaffected by today's judgment; in addition, we are working on an alternative ridesharing service that we are developing specifically to fit the Court's interpretation of existing regulations in Germany," it added.
READ MORE: 'Starving us out': Massive taxi demos block streets in major EU cities (PHOTOS, VIDEOS)
In September 2014, the Frankfurt regional court ruled the UberPop service lacked the necessary legal permits to operate under German law, but the US company managed to reverse ban.
Germany is not the only country in which Uber has been experiencing legal problems. In December 2014, the French government vowed to ban the UberPop taxi app in 2015. As part of an ongoing investigation, police raided the Paris offices of the company on Wednesday.
Uber has been banned in Thailand, the Netherlands and Spain. The Indian capital of New Delhi also barred Uber after a driver was accused of attempted rape.
Taxi drivers across Europe have held mass demonstrations against the car-hailing app with one of the largest taking place last June.