Ohio policeman praised for not killing murder suspect yelling 'Shoot me!' (VIDEO)
Published time: 20 Apr, 2015 18:57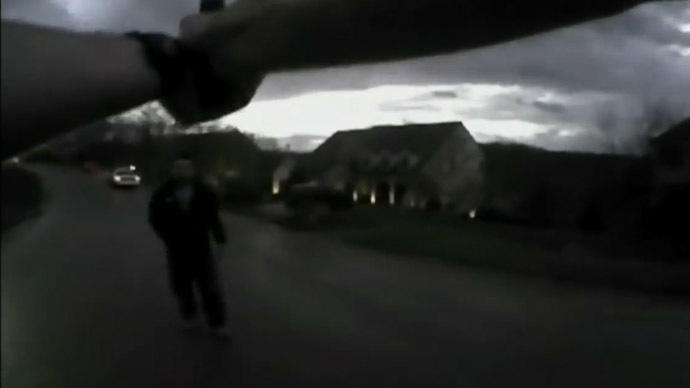 "I don't want to shoot you," a police officer from Ohio and former US Marine said repeatedly, as he backed away from a double murder suspect, who yelled "shoot me" several times during their encounter. The officer is being lauded for showing restraint.
Suspect Michael Wilcox, 27, had allegedly shot his girlfriend and a friend before leading police on a three-county chase in the Cincinnati area.
Jesse Kidder, who has been a New Richmond, Ohio, police officer for just over a year, caught the encounter on his body camera, which was supplied by a concerned relative and not his employer.
Kidder, a former Marine who served two tours in Iraq, was also a recipient of a Purple Heart for being wounded in combat. He told WLWT he heard via radio dispatcher that Wilcox might be armed and that there was a possibility that the suspect might want the police to shoot him in order to end his life.
With his handgun raised and poised to fire, Kidder can be seen backing away from Wilcox, who ignored Kidder's demands for him to put his hands up. The suspect moved directly at the law enforcement officer, attempting to bait a lethal reaction.
"He jumped out and he sprinted towards me. I had my firearm already drawn on me, and I told him to put his hands up in the air and he was screaming as he was yelling, 'Shoot me, shoot me'," Kidder told WLWT.
In the video, Kidder can be heard responding, "I don't want to shoot you," and "I'm not gonna do it," amid Wilcox's pleas.
Kidder mentioned that his eyes were fixed on Wilcox's hands. He added that one, if not both, were in his jacket pockets, which was documented on the footage.
"So he's got his arms at his side while he's running at me and that's the first thing I noticed," Kidder said. "He put his hand in his pocket there, so my eyes are watching that hand right now and nothing else."
Kidder eventually fell backwards onto the ground, while his firearm was still raised.
"He got towards my face right as I lost balance," Kidder said. "I'm thinking, at this point, that if he goes into attack me, that I'll have to use deadly force to defend myself."
Backup police arrived swiftly and Wilcox was forced to surrender and was immediately arrested.
Wilcox was charged with the murder of Courtney Fowler, and he is a person of interest in the death of Zach Gilkison, WLWT reported. According to an affidavit, Wilcox admitted to murdering both, blaming "drug use, intoxication, and hearing voices or music" that pushed him to kill.