​Nanoparticle-coated-mesh could clean up oil spills
Published time: 15 Apr, 2015 20:49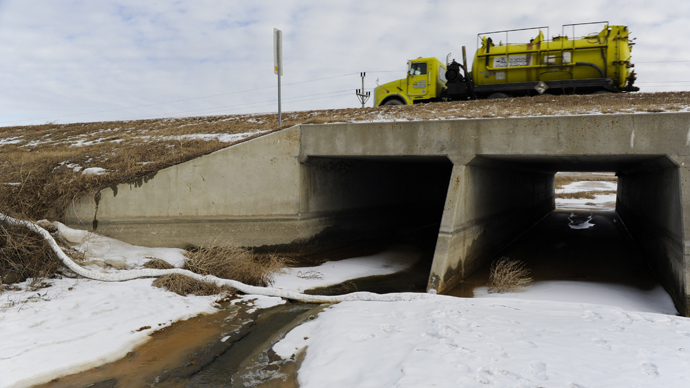 Scientists in Ohio say that they've developed a specialized type of mesh that might be able to clean up oil spills at a fraction of the current cost thanks to a breakthrough in nanotechnology.
Research out of Ohio State University's nano lab said this revealed a type of steel mesh that allows water to pass through it, but not oil.
The high-tech mesh is coated in a nearly undetectable dusting of microscopic particles that repels oils, and the scientists behind it say it could be the key to cleaning up future spills.
"If you scale this up, you could potentially catch an oil spill with a net," Bharat Bhushan, a professor of mechanical engineering at Ohio State, said in a press release issued by the school on Wednesday.
Bhushan has been publishing scientific studies on nanoparticles since the 1990s, but his discovery of a new technique inspired by the bumpy, water-repelling surfaces on lotus leaves is among his latest work and described in two papers now published in Nature Scientific Reports.
Scientists develop mesh that captures oil - but lets water through http://t.co/XmQ4TcKv9Vpic.twitter.com/ToHYY9knwi

— Deep Stuff (@DeepStuff) April 15, 2015
Specifically, the Ohio State team took a stainless steel screen and dusted it with silica nanoparticles embedded with molecules of surfactant—an agent often found in soaps and cleaning products—and found that it creates a nearly undetectable layer that repels oil.
The mostly transparent layer is only a few hundred nanometers, or billions of a meter, thick, and doesn't significantly alter the feel of stainless steel, the school said.
Philip Brown, a postdoctoral researcher at Ohio State, told the school that he thinks it will be possible to create a large net coated in the repellent for the cost of less than a dollar per square foot, potentially bringing new, inexpensive options with regards to environmental cleanups.
"Nature reaches a limit of what it can do," Brown said. "To repel synthetic materials like oils, we need to bring in another level of chemistry that nature doesn't have access to."