Capitol Hill placed on lockdown after suicide on building's steps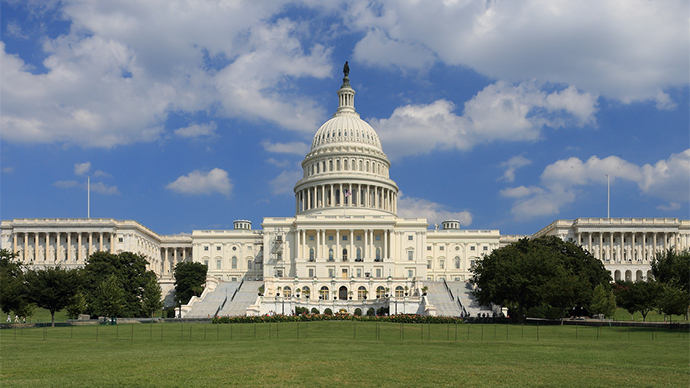 The US Capitol was placed on lockdown after a man with a suitcase shot himself on the lower west terrace. A police spokesperson said that the gunman had been "neutralized" and confirmed the shooting was a suicide.
"Confirmed: self-inflicted gunshot by neutralized subject," police spokeswoman Sgt. Kimberly Schneider said shortly after the incident.
DC Metropolitan Police spokesperson Sean Convoy later confirmed that the man has died. No one else was hurt in the incident.
Allegedly man shoots himself on west terrace of the capitol building. What an interesting walk in DC today. #newspic.twitter.com/tClE7h7lqj

— Chelsie Taddonio (@Chels_Taddonio) April 11, 2015
A witness told Sputnik news agency that a person who shot himself also had a suitcase.
"A gentleman came up and shot himself," DC resident Robert Bishop said. "He was 25 feet behind me, I thought it was a ballon popping, but he shot himself and had a suitcase."
The lockdown, which lasted for less than two hours, has been described as precautionary measure. Authorities were investigating a suspicious package, which was found at the scene. Local media reported that it was the suitcase left by the person.
Police also reportedly searched the man's car.
An unnamed official has told NBC Washington that there are no indications that the incident was terror related.
#BREAKING: Reports of a #shooting near US #Capitol and Pennsylvania Ave. Emergency Services and bomb squad on scene. Area in lockdown.

— AUS News Network (@AusNewsNetwork) April 11, 2015
According to ABC news, the person was wearing a blue backpack and had a sign taped to his hand. Twitter users are saying that the placard read, "Tax the 1 percent." These reports have not been confirmed.
BREAKING: Someone just shot themself on the steps of the US Capitol during the height of Cherry Blossom festival. Capitol is on lockdown.

— Tom Risen (@TomRisen) April 11, 2015
The incident occurred on Saturday during Washington's annual Cherry Blossom Festival. Congress has been out of session for the last two weeks for spring break; lawmakers are set to return to work on Monday.
The DC landmark has served as the site of several shootings through the years. In 2013, police officers fatally shot a dental hygienist after she struck a secret service agent with her car and led officers on a chase from the White House to the Capitol.
In 1998 a gunman entered the building and opened fire on the deputies manning a security station, killing two officers.
Earlier this year, the FBI arrested an Ohio man for plotting a terrorist attack on the Capitol, where he had planned to set off a series of bombs.
#capitol#uscapitolpic.twitter.com/V8116IQR4R

— Greg Brooks (@GregBrooksOH) April 11, 2015
You can share this story on social media: