Former Ohio state trooper gets 5 yrs in federal prison for sex acts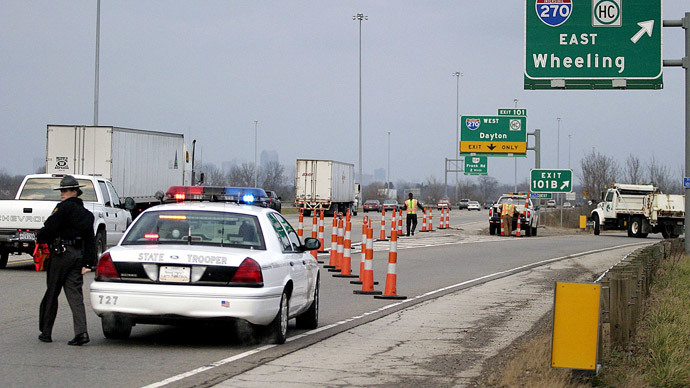 An Ohio state trooper was sentenced to five years in prison by a federal court for coercing four women motorists to engage in sexual acts for lenient treatment over criminal cases and traffic tickets.
Bryan Lee, a 31-year-old father of three, was handed his 60-month prison sentence on Thursday in Columbus, Ohio. Lee pleaded guilty to four counts of violating the civil rights of women motorists "by coercing them in his official capacity to commit sexual acts," as well as one count of cyber stalking in October 2014.
"These are despicable, reprehensible crimes perpetrated by someone with a badge against young women who were helpless to defend themselves," District Court Judge Michael Watson told the court, according to The Columbus Dispatch. "Your lack of insight is of very cold comfort to them today, I'm sure."
READ MORE: Texas woman sues state trooper over roadside body cavity-search
Lee was convicted following an investigation into his traffic stops in two Ohio counties from 2006 to October 2013. He was charged with coercing women to commit sexual acts, some of which he photographed. He also admitted he engaged in sexual contact with victims while they were under arrest and restrained in handcuffs. Lee also harassed and threatened some of the victims, including sending threatening electronic message to one woman who he pulled over twice during a one-month period.
Driving while female. Ohio State trooper pleads guilty to sexually assaulting female motorists. http://t.co/Dv6AgvMFkN#Politics@dailydot

— Chrystyna Lapychak (@chryslap) October 30, 2014
The investigation was sparked when a highway patrol supervisor noticed an incident captured on Lee's dashboard camera in September 2013 showing Lee allegedly flirting with two female motorists before Lee turned off his microphone.
Lee admitted to investigators he allowed the driver, who appeared to be drunk, to leave without being charged while telling the passenger to come with him so he could give her a ride home. Lee then pulled into an alley, parked and photographed himself fondling the woman's bare breasts.
READ MORE: Arizona community officer accused of Tasering 2 young kids because they asked him to
In a previous incident in March 2012, Lee stopped a woman for speeding and took her to his cruiser. He asked her to take off her top and she complied. Lee then used his phone to photograph himself touching her bare breast. Then he coerced the woman into driving to an abandoned gas station, where they had sex. In exchange, he dropped the speeding citation.
The cyber stalking charge came from an incident in November 2010, when Lee stopped a woman for speeding and groped her upon arrest. He found pills and drug paraphernalia in her car, but dropped those charges. He still took her to jail for an outstanding warrant, citing her for speeding and driving with a suspended license. Lee than tracked down the woman on Facebook, demanding she send him nude photos of herself.
READ MORE: Protesters claim conflict of interest in case of NJ officer who killed a man with hands up
Lee resigned from his post in November 2013, before he was fired, according to Lt. Craig Cvetan, spokesman for the patrol.
"Public trust is one of our number one priorities, and individuals like this tend to compromise that trust," Cvetan said, according to AP. "That's exactly why we moved swiftly to have him removed from our organization and pursued the criminal charges against him."