Texas woman sues state trooper over invasive roadside body cavity-search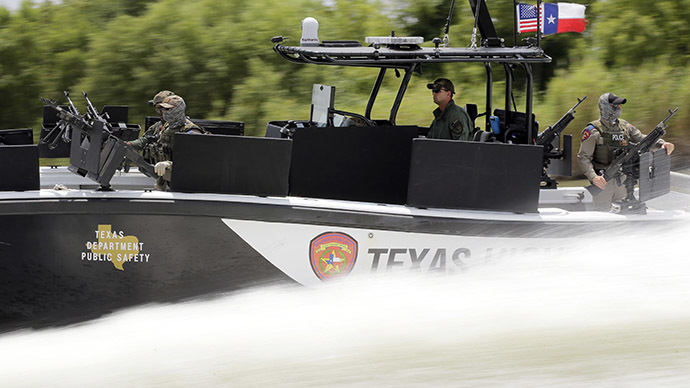 A woman is suing the Texas Department of Public Safety and four state troopers for what she calls an overly invasive body-cavity search in broad daylight on the side of the road. One of the troopers was previously sued over the same procedure.
Jennifer Stelly, a Texas Corrections officer, and her boyfriend Channing Castex were pulled over by two troopers for speeding in March 2013, according to the complaint. The officers arrested Castex after they said they smelled marijuana, which he admitted to have smoked previously.
"They say they pulled me over for speeding and I received no speeding ticket. They said they were smelling stuff and they were looking for stuff in the car and they didn't find nothing," Castex told KRIV.
Troopers then found pot in Stelly's purse, and called a female trooper on her cell phone ‒ instead of through dispatch ‒ to perform a search of the woman's body, the complaint said. Before the trooper arrived, another officer joined the two who had performed the stop.
Stelly remained standing on the side of the road during the entire hour-long incident, while Castex was in the backseat of the squad car.
When the female trooper arrived, the search was performed in view of the dashboard-mounted camera in the cop car, as well as in front of the three male officers and the busy highway traffic.
Woman suing Texas state troopers over alleged invasive roadside search: http://t.co/WhNpaCMcUYpic.twitter.com/zUaMoo1tu7

— WPTV (@WPTV) December 31, 2014
"She started going into my clothing and she penetrated areas that I don't wish to disclose at this point," Stelly told KPRC. "I was scared. I was violated. I didn't know what to do."
"I was afraid for one," she added. "But more than afraid, I was publicly humiliated. I was violated in daylight."
Castex told the NBC affiliate he protested from the backseat of the patrol car.
"I was thinking that was wrong," he said. "I was telling them stop this. Not right. You shouldn't be doing this."
The male troopers laughed as they watched the cavity search, according to the complaint.
"I was on my cycle so she could not penetrate the vaginal area but she went to the anal area and she penetrated and put her finger inside and I just felt violated," Stelly told KRIV.
The officer did not change gloves between portions of the examination, court records said.
"Even if drugs would have been found, the act of penetrating a woman's body to look for a plant deemed illegal by the state is immoral, repugnant, and a telling indication of a broken system," the Free Thought Project wrote. "Stelly's constitutional rights, as well as her person, were clearly violated during this incident."
Stelly's lawyer, Allie Booker, condemned the incident.
"It's not right for you to sexually violate someone," she told KPRC. "There is no clause in the constitution or any other law that allows you to do that so they need to be fired."
Booker noted that the same female trooper, Kelley Helleson, was a defendant in a previous lawsuit involving roadside cavity searches. In that 2012 incident, video from a dash-mounted camera shows Helleson using her fingers to search the anuses and vaginas of the women. The trooper used the same latex glove to touch the genitals of both women, while conducting the search on the side of the road in full view of the passing vehicles. Booker also represented the two women in that case, which was settled out of court for $185,000.
Helleson "was reprimanded [and] she was put on six months leave and she was retrained," Booker told KRIV.
Stelly told the Fox affiliate that she didn't feel the trooper's training was used because she left the traffic stop feeling like a sexual assault victim.
In 2013, two other women filed suit against the Texas Department of Public Safety after a roadside body-cavity search performed by another state trooper, Jennie Bui. New Mexico law enforcement has also been under fire for invasive searches, including a lawsuit from a woman who claims a corrections officer sprayed mace on a her genitals during a strip search.
You can share this story on social media: