Cloned antibody shows promise for HIV patients
Published time: 9 Apr, 2015 01:24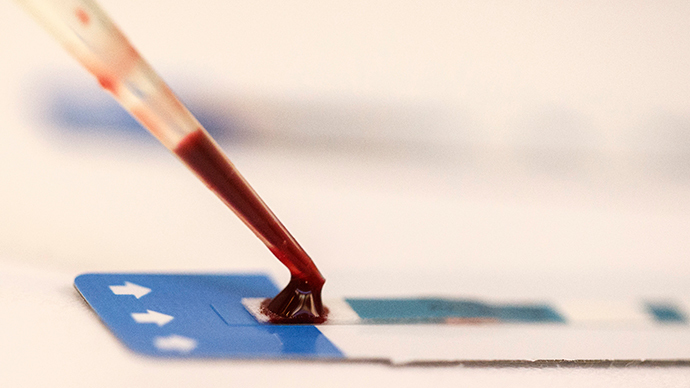 A potent antibody created in a lab has shown promising results in the first human trial, a team of US and German scientists announced, suppressing HIV in the blood for up to a month without harmful side effects.
Dubbed 3BNC117, the molecule was cloned in the lab from a powerful natural antibody produced by about 1 percent of humans infected with HIV. The results were published Wednesday in the journal Nature.
"What's special about these antibodies is that they have activity against over 80 percent of HIV strains and they are extremely potent," said Dr. Marina Caskey of the Rockefeller University in New York, who also led the study.
3BN117 was active against 195 out of 237 HIV strains, the trial showed.
Viraemia suppressed in HIV-1-infected humans by broadly neutralizing antibody 3BNC117 http://t.co/mOP54X7A2D

— UC Berkeley SSSCR (@ssscr_berkeley) April 8, 2015
Researchers administered 3BNC117 to 29 volunteers, 17 with HIV and 12 without. Each volunteer received a single, intravenous shot in doses ranging from 1 to 30 milligrams per kilogram of body weight, and was monitored for 56 days.
Eight individuals given the highest dose showed a significant decrease in the amount of HIV in their blood, "up to 300-fold" the researchers said. The viral load was lowest after about a week, and remained "significantly reduced" for four weeks. In four of the eight high-dose subjects, the viral loads remained below the starting level after the eight-week trial. The other four, unfortunately, developed a resistance to the antibody.
Read More: Aggressive HIV strain leading to AIDS in 3 years discovered in Cuba
According to the CDC, there are 1.2 million people in the US living with HIV. They rely on a daily intake of antiretroviral drugs, which can only stop the virus from replicating, but not cure the infection.
Florian Klein, immunologist at Rockefeller University in New York and one of the authors of the study, says the results are promising but 3BNC117 is "not ready to go on the market or anything."
Caskey says the next step is to test whether 3BNC117 can help patients during a pause in antiretroviral therapy and test its function in combination with antiretrovirals. Further studies of whether 3BNC117 could be used preventively are also under consideration.
A single dose of a new HIV drug weakens the virus for 28 days http://t.co/LFzU4VhWeKpic.twitter.com/o7ltUjXGgJ

— The Verge (@verge) April 8, 2015