​Texas judge refuses to lift hold on Obama immigration plan
Published time: 8 Apr, 2015 17:50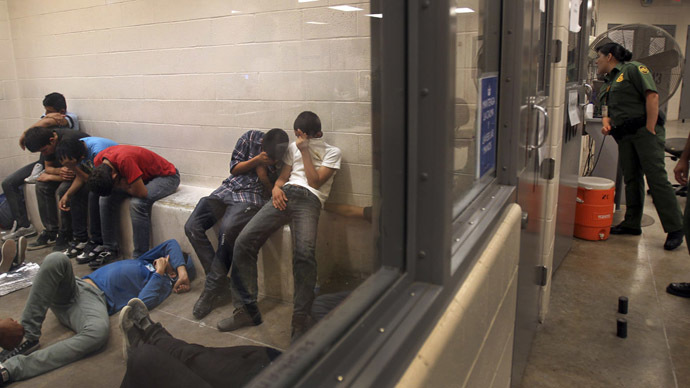 A U.S. federal judge in Texas has denied the federal government's request to lift a hold on President Barack Obama's controversial immigration plan.
By refusing to lift the ban he issued in February, the ruling halts temporary relief from deportation and other immigration benefits for up to 4.7 million immigrants in the US.
READ MORE: Texas judge delays Obama admin request to unblock immigration orders
The plan was part of Obama's executive order, bypassing the Congress which had failed to agree on immigration reform. But 26 states, led by Texas, filed a lawsuit to overturn Obama's executive actions, arguing they are unconstitutional and would force them to invest more in law enforcement, health care and education.
US District Judge Andrew Hanen in Brownsville, a city along the border with Mexico, wrote that the government misled the court by revealing last month that it had granted expanded work permit renewals to 100,000 illegal immigrants before the court blocked the administration from implementing its new policies.
"Any premature implementation could have serious consequences, inflicting irreparable harm on our state, and this ruling is key in determining the extent to which the federal government did not present the full truth in this case," Texas Attorney General Ken Paxton said.
Obama's plan placed the focus of immigration enforcement authorities on deporting felons, not families. It also allowed parents of US citizens, permanent residents and hundreds of thousands of young adults who came to the US as children to work legally without the constant threat of deportation.
As part of his rationale for not allowing the administration to immediately implement the new policies, Hanen wrote: "It is obvious that there is no pressing, emergent need for this program."
"As the judge has affirmed, once put into effect, President Obama's executive amnesty program will be virtually impossible to reverse," Paxton said in a statement.
Meanwhile, the Department of Justice (DOJ) has already petitioned the Fifth Circuit Court of Appeals to lift Hanen's stay. The appeal to hear arguments on whether the injunction should be lifted is scheduled for April 17.
A total of 15 states and the District of Columbia are supporting the DOJ's petition, arguing that migrants provide economic benefits, not burdens, to their states.
READ MORE: Get out: US voters want more deportations, curbs on immigrants