Kansas to allow concealed carry without permit or training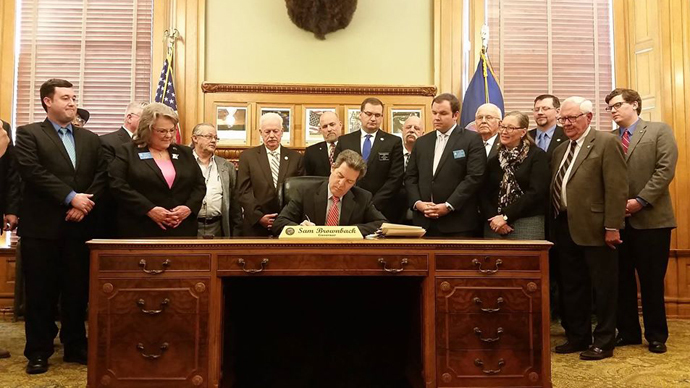 Kansas Governor Sam Brownback (R) signed a law authorizing the carrying of concealed handguns in the state without a license or a training requirement. When it goes into effect, Kansas will become the fifth state with such a concealed carry law.
"I am pleased to sign Senate Bill 45 bill today. I have been – and continue to be – a strong supporter of Second Amendment rights," Brownback said Thursday as he signed the bill, flanked by Republican lawmakers and representatives from the National Rifle Association (NRA) and the Kansas State Rifle Association (KSRA).
The bill, known as constitutional carry, was introduced into the state Senate with 26 co-sponsors – five more legislators than necessary to pass the bill, the Wichita Eagle reported. It passed the GOP-led Senate 31-7 in February. One Republican voted against the bill, and two Democrats voted for it. In the state House of Representatives, the bill passed 85-39 at the end of March, with four Democrats supporting it, and 16 Republicans voting against it.
"Responsible gun ownership – for protection and sport – is a right inherent in our Constitution," he said in a statement. "It is a right that Kansans hold dear and have repeatedly and overwhelmingly reaffirmed a commitment to protecting."
Four other states have some version of permit-less concealed carry laws on their books – Alaska, Arizona, Vermont and Wyoming – and nine other state legislatures are currently considering similar bills. Montana and Arkansas have concealed carry without a permit, but not everywhere in their states.
Kansas Gov. signs bill to end conceal-carry license mandate http://t.co/5OTj0ama5W@CJ_news@eopiniontvpic.twitter.com/QC0eEhRiBc

— Jaoana Dean (@thejaoana) April 2, 2015
In the three states that have adopted permit-less carry laws most similar to that of Kansas, murder rates have gone down, declining by 23 percent in Alaska, 16 percent in Arizona and eight percent in Wyoming, according to the NRA.
Brownback touted the importance of training, explaining that his youngest son took a hunter safety course this past week, the Kansas City Star reported.
"It was an excellent course. He got a lot out of it. I got a lot out of it. And I want to urge people to take advantage of that," said Brownback.
Training, however, is no longer a requirement to carry a concealed weapon.
"We're saying that if you want to do that in this state, then you don't have to get the permission slip from the government," Brownback said. "It is a constitutional right, and we're removing a barrier to that right."
Loren Stanton, president of the Kansas chapter of the Brady Campaign to Prevent Gun Violence, questioned the wisdom of making training voluntary for carrying a concealed weapon.
"There is no way that taking away training can make guns safer," Stanton told Reuters.
TERRIBLE new KS law allows people to carry concealed guns with NO permit & NO TRAINING. http://t.co/VaZCgcceBbpic.twitter.com/4AokdBi87T

— WomenAgainstGunViol (@WAGV) April 3, 2015
Eight hours of firearms training will still be required for anyone who wants to carry a concealed gun in the 36 states that accept Kansas permits.
Over 90,000 Kansans applied for concealed carry permits under the previous law, which went into effect in January 2007, according to the attorney general's website.
The new law "does not eliminate our existing concealed carry permit process," Brownback said in the statement. "It simply removes an administrative process for those Kansans who want a firearm for use within the state."
The NRA praised the signing of the bill.
"On behalf of the NRA's five-million members, we want to thank Governor Brownback and Senate Majority Leader Terry Bruce for their leadership on this critical issue," Chris W. Cox, executive director of the National Rifle Association's Institute for Legislative Action (NRA-ILA), said in a statement. "This new law is a common sense measure that allows law-abiding Kansans to exercise their fundamental right to self-protection in the manner that best suits their needs."
But not all gun owners in Kansas are happy about the state's new law. Bill Warren, a movie-theater owner in Wichita who has a concealed-carry permit, told the Kansas City Star he is concerned about the safety impact of people bringing guns who haven't gone through training.
"My number one priority is the safety of our customers, and after we talk to our security we will make a decision before it's enacted," said Warren, who donated and hosted events for Brownback's gubernatorial campaign. "It makes things for the general population less safe."
Businesses can still post signs that say concealed weapons are not allowed on their property. Warren said he is likely to prohibit guns in his theaters.
#gunowners BREAKING: Kansas Goes Constitutional Carry http://t.co/npAgzZ5yfO#nra#gunrights#2apic.twitter.com/Nx39hFmDh8

— Robert McClary (@kc8ysl) April 1, 2015
The KSRA spent 10 years lobbying for such a law. The group's president, Patricia Stoneking, told the Kansas City Star that the inclusion of the previous training requirement encoded in the 2006 law was a result of "political horse trading" to get the bill passed at the time. She said lowering the concealed carry age to 18 from 21 is the next step.
"Eighteen-year-olds are allowed to open carry, and they go to war and put their lives on the line to protect this country," Stoneking said. "I believe we can lower the age to 18 at some point in the future. I think after everybody sees that there are not going to be any of the dire predictions coming true, and they relax a little bit, then we can talk about that."
The new concealed carry law will go into effect on July 1.
You can share this story on social media: