1st v 2nd Amendment: Anti-gun activist outs concealed-carry license owner with lawn sign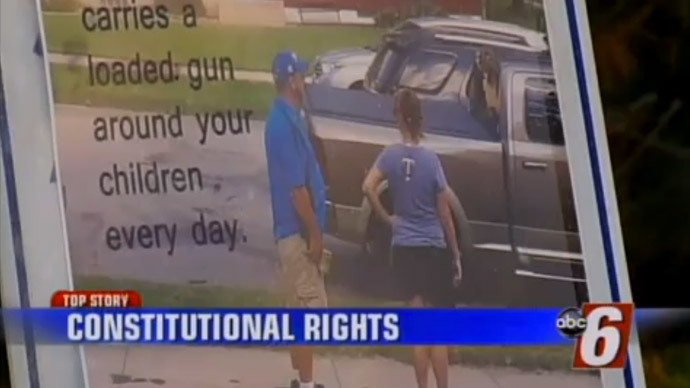 ​A difference of opinions between a lawful gun owner and a concerned neighbor has caused a commotion in Rochester, Minnesota over the rights protected by the First and Second Amendments to the United States Constitution.
The debate at hand involves a local woman's recent decision to post a sign on the front lawn of her Rochester home announcing to passersby that an area man, Matthew Halleck, carries a concealed handgun on him every day when he walks his two daughters past her property on his way towards Harriet Bishop Elementary School.
Local network ABC 6 reported earlier this month that Halleck has a state-issued permit to carry the gun, and Minnesota's relatively relaxed firearm laws allow lawful residents to carry such weapons nearly everywhere but schools with few restrictions; in June, the Huffington Post went as far as to consider Minnesota to be among the more gun-friendly states.
Yet while Halleck insists the gun is for protection, Rochester resident Kimberly Edson says it rubs her the wrong way.
"Since we don't have a way to stop him, we felt it was important to notify the neighborhood and the parents that there is an armed man in their presence," Edson told ABC 6. "The first couple days of school he had it very visible, we saw it and were quite concerned," she said.
"I have a responsibility to help create the kind of community I want to see, and I don't want to see a community where there are guns around schools," she said.
The sign Edson posted on her lawn, the network reported, has Halleck's picture on it and reads: "This man carries a loaded gun around your children every day."
Jenny Lohse reported for the ABC News affiliate that the two have since squared off over each other's constitutionally-protected guarantees: the right to free speech and the right to bear arms.
"Kimberly called the police the day the picture was taken, but they said Matthew has a legal right to carry off school property. Matthew also contacted authorities concerning the sign, and while they briefly took the sign down, it was eventually determined that Kimberly was also breaking no laws," Lohse reported.
"He has a Second Amendment right to carry the gun, I have my 1st Amendment right to say that I don't like it," Edson explained to the network. "I have a responsibility to help create the kind of community I want to see, and I don't want to see a community where there are guns around schools."
"I'm going to protect my children any way I can," Halleck fired back. "If it heightens the awareness for folks out there that are confident enough, and see the changes in the world to add an extra layer of protection, I encourage people to do it."
According to Lohse, however, Halleck likely isn't about to encourage any area residents to take the same path as Edson. ABC 6 reported that the man is considering possibly filing a lawsuit against the sign-maker for libel.
Similarly, a nation-wide debate erupted nearly two years ago after a newspaper in New York state printed a map containing the names and addresses of residents with handgun permits in order to demonstrate the concentration of firearm owners in the wake of the deadly Sandy Hook Elementary School shooting in nearby Connecticut. RT reported then that the paper, the White Plains Journal News, subsequently hired security guards to patrol headquarters after the decision to post that information prompted complaints and threats from the likes of area gun owners.
In the state of Minnesota, residents don't need a permit to purchase, use or carry rifles and shotguns, according to the NRA's Institute for Legislative Action, but do require licenses to purchase and carry handguns. Open carry is prohibited in all public areas unless one possesses a recognized permit, the USA Carry site reports.
You can share this story on social media: