Pile of dough: Indiana pizzeria raises $842k after anti-gay remarks go viral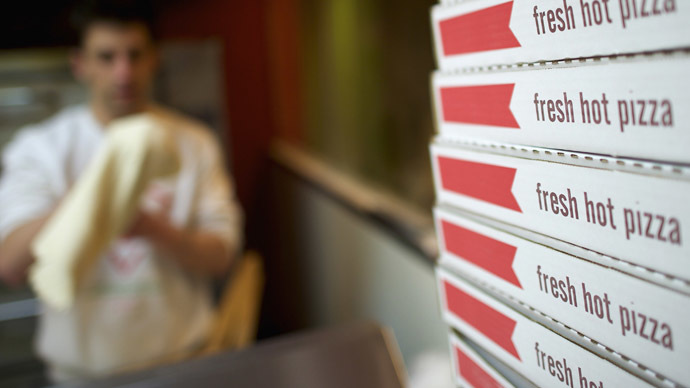 A family-owned pizzeria in Indiana, which caused a commotion recently over its stance on the state's altered "religious freedom" law, has raised close to a million dollars after going public with its anti-gay views.
Backers of an online crowdfunding campaign have pledged over $842,000 to Memories Pizza of Walkerton, Indiana as of midnight on Friday this week. This comes two days after a conservative talk radio program asked its audience to consider making donations amid an onslaught of criticism directed at the eatery. The uproar resulted from its owner's endorsement of the state's controversial Religious Freedom Restoration Act, or RFRA.
According to the Associated Press, the operators of Memories, including co-owner Crystal O'Connor, have moved out of public view and are even thinking about leaving the city.
Indiana Governor Mike Pence signed his name to RFRA last week, in turn authorizing a bill that critics said would allow state businesses to discriminate against customers based on sexual orientation, among other factors.
Amid mounting national backlash waged by civil rights advocates, Indiana lawmakers drafted changes to the act on Thursday. It was promptly signed by the governor later that evening. Memories had already made headlines coast to coast by then, and is now seeing more dough than even the busiest of pizzerias are accustomed to.
On Tuesday this week, the pizzeria's proprietors told a local news affiliate they would refuse to cater for a wedding for a same-sex couple—a right provided to them under the RFRA.
"If a gay couple was to come and they wanted us to bring pizzas to their wedding, we'd have to say no," O'Connor told South Bend's WBND-TV on Tuesday this week. "That's a lifestyle that you choose. I choose to be heterosexual. They choose to be homosexual. You can't beat me over the head with something they choose to be," added her husband, Kevin O'Connor.
Indiana pizzeria says it won't cater gay weddings. Gay people everywhere are like, "Pizza at a wedding! You must be joking. How cute."

— will kill 4 spring (@onekade) April 1, 2015
The O'Connor's comments were quickly circulated outside Indiana and soon went viral. The eatery immediately became the face of a much-larger movement waged against the state's alleged license to discriminate. The attention eventually prompted the store to temporarily close this week amid supposed security concerns.
On Tuesday, an area high school teacher was suspended without pay after writing on Twitter that she wanted to burn Memories to the ground. Local law enforcement has ramped up police presence in Walkerton, 20 miles southwest of South Bend.
While the O'Connor's remarks expectedly drew fire right away from opponents of the so-called religious freedom law, one of the early catchers-on was an employee of conservative radio host Dana Loesch's daily talk show. The pizza proprietors appeared on the program to discuss the aftermath of the WBND interview on Wednesday and evidently impressed the show's audience.
Lawrence Jones, a colleague of Loesch, launched a crowdfunding campaign on Wednesday with the goal of raising $25,000 for the O'Connors. According to Jones, his "intent was to help the family stave off the burdensome cost of having the media parked out front, activists tearing them down and no customers coming in." In less than 48 hours, however, he has helped elevate the family half-way to millionaire status.
"Our goal was simply to help take one thing off this family's plate as the strangers sought to destroy them," Jones wrote. "But other strangers came to the rescue and the total just keeps going up."
More than 21,000 donations were submitted through the GoFundMe page as of Friday afternoon — or around ten-times the population of Walkerton.
You can share this story on social media: