US economy added almost 50% less jobs in March than average month in '14
Published time: 3 Apr, 2015 15:26
Edited time: 3 Apr, 2015 16:20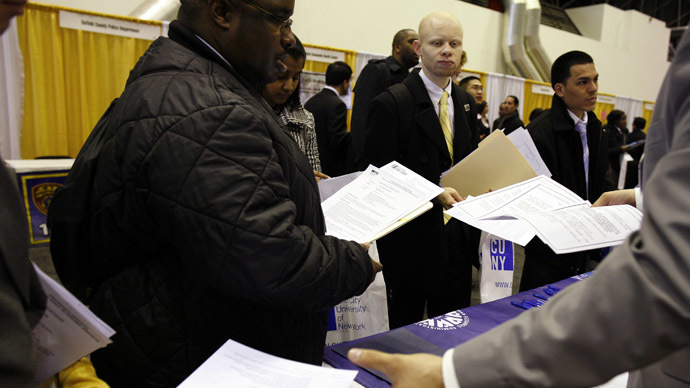 Employers in the United States added a lower-than-expected 126,000 jobs in March, according to the US Labor Department, following 12 straight months of gains above 200,000.
Economic observers say the weakened economic growth is due in part to harsh winter weather, especially in the Northeast, a drop in oil prices, and the sluggish construction sector. Manufacturing and government both dropped jobs, while restaurants positions fell steeply from February.
"While March's numbers aren't as robust as we've seen over the last year, overall trends remain solid, and there is every reason to be optimistic about our economic trajectory going forward,"said Labor Department Secretary Thomas E. Perez. "We've made incredible strides since the depths of the Great Recession, but there's more work to do to make sure every person can benefit from this recovery. There's more to do to strengthen and grow our middle class."
US job growth slows: gain of 126,000 jobs in March http://t.co/FRAxTlydmSpic.twitter.com/T6MNq5gS6h

— NYT Business (@nytimesbusiness) April 3, 2015
The unemployment rate remained at 5.5 percent, the Labor Department reported.
Average hourly wages went up by 7 cents to $24.86 an hour.
Employment gains in February and January were adjusted down by 69,000 jobs.
Long-term unemployment dropped to 1.6 percent, which is 0.7 percentage points below its level from a year ago.
The labor participation rate remained at 62.7 percent, suggesting many Americans who have left the workforce have not changed course. In fact, at 62.7 percent, the labor participation rate is at its lowest since February 1978, with 93.2 million Americans on the outside, according to zerohedge.com.
Employment-to-Population ratio and lack of wage growth: not rocket surgery http://t.co/JNWSYOrTnlpic.twitter.com/MX0AYYP3p4

— zerohedge (@zerohedge) April 3, 2015
"This was a very disappointing jobs report, and the dramatic falloff in employment growth confirms the emerging narrative of slowing growth momentum seen in the other economic indicators," Millan Mulraine of TD Securities told the Wall Street Journal.
Other analysts said the recent drop in oil prices is still impacting employment numbers.
"The American energy industry is adjusting very quickly to low oil prices, and so we've seen this in the counts of the number of rigs that are active and are seeing in mining and energy-related industries," Carl Tannenbaum, chief economist for Northern Trust, told the New York Times. "The bad news is we're losing some jobs. The good news, is we hope, that the average consumer is saving a tremendous amount of money in lower gasoline prices."
Businesses have added 12.1mil jobs over 61mo of job growth, the longest streak on record https://t.co/KRnzekCmwKpic.twitter.com/1eZaD1dONV

— Betsey Stevenson (@CEABetsey) April 3, 2015
Insiders say the strain on employment growth in March will likely mean the Federal Reserve will keep interest rates near zero for a while longer.
"With regards to the Fed, the price action tells us all we need to know," Dan Greenhaus of BTIG told the Wall Street Journal. "The odds of a June rate hike, already diminished, will probably move even lower (with the caveat that the Fed follows trends and not any one, single data point) and while we remain of the belief that the first hike comes in September, those odds of that happening have to be lower as well."
Others said the March jobs report won't change many minds at the Fed.
"[W]hat it will do is weaken the argument for a mid-year hike and it will place a greater premium on the next few employment reports as the Fed looks for evidence that the relapse in economic growth and labor market momentum is temporary," Mulraine, of TD Securities, said. "As such, our base-case continues to be for the Fed to hold the line on rates until September this year, though the balance of risks is now shifting to a later start to liftoff."